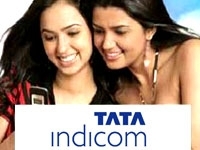 Tata Indicom introduced a new edition of its winning product Let's Rock for CDMA mobile customers of Mumbai and Maharashtra. Let's Rock is aimed primarily at the youth of today.The product is crafted keeping in mind the inherent need of today's youth to be with their gang all the time.
Let's Rock enables them to be 'Always Together' with a fantastic product offering — calls as low as 10paisa per min and free SMS.
The product comes at an MRP of Rs.199 with five years validity. Users get a flat 50 per cent discount on data usage and voice portal tariffs from 9pm-9am.
Let's Rock offers an unbeatable combination of value coupled with an unmatched mobile experience. The product adds a new dimension to the pre-paid offering and is another example of our commitment to empower the youth with the freedom of affordable telephony. This time Let's Rock introduces the concept of 'Refer-a-friend'. Let's Rock subscribers stand to win exciting gifts under this scheme. All they need to do is SMS 'REFER <their friend's Let's Rock activated mobile number>' to 12524."