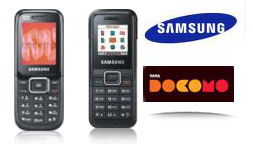 Now one can get a free TATA DOCOMO SIM card with fabulous Samsung handsets. To avail lifetime validity with this offer, one has to recharge with Rs. 48 and also get with one paisa per second call rate across India and 100 local SMS free every month for a period of 6 months!!!
The Samsung handsets coming with this offer are "Samsung Guru 1070" and  "Samsung Guru 1210".
Customers needs to recharge with Rs.100 over 6 months to retain the lifetime validity status and avoid disconnection. This offer is only valid for prepaid Customers. The SIM card is meant to be used with the Samsung  phone it has been supplied with.  If the SIM card is removed and used with any other phone, TATA DOCOMO would, at its discretion, withdraw the offer and  benefits associated with it.
Features of Samsung Guru 1070 and Samsung Guru 1210
Samsung Guru 1070
Cool Features: Powerful Torch with Torch Time of 40 Hrs,Advance Mobile Tracker,
English + Hindi Input & Display Call Time Limit
Alarm notifies the user when a call time limit (set by the user) has been reached, helping users curb lengthy calls
''Call Manager' keeps track of call costs and duration so you know exactly how much you are spending on your conversations
Mobile Tracker alerts the user when the mobile's SIM card is c

hanged, and the 'SOS Message' sends out emergency messages to pre-designated contacts with just a single click of a button
Greater Mobile Power
200-entry phonebook contains all your phone numbers for easy retrieval  - SMS storage of up to 100 messages, 750mAh battery prolongs battery life
FM Radio - Tune into FM radio for the latest news & entertainment - Listen to the latest music, without fees or any downloading
Torchlight Built-in flashlight offers light in a blackout or dark  situations - Convenient feature lets you see easily when it is dark
Samsung Guru 1210
Cool Features:
English + Hindi Input & Display
Stylish and durable design features rounded contours for ergonomic ease and visual aesthetics,
Compact dimensions fit nicely in the hand and the pocket at 108x43.5x14.3 mm
Chiseled, beveled edges add to the sleekness of the casing, giving the mobile a strong and speedy look  FM Radio
Access the latest music and most up-to-date news and information with no downloading or cost
FM radio channel hot key gives instant access to your favorite stations
Display
CSTN screen is 1.77" amply displays your messages, graphics and games
65K color ensures bright and vivid images, with 128x160 pixels for good image resolution
Mobile Power

500-entry phonebook contains all your phone numbers for easy retrieval
SMS storage of up to 300 messages
800mAh battery prolongs the battery life