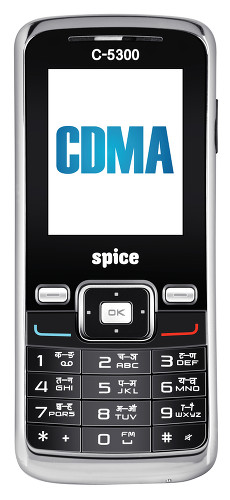 Handset major Spice Mobiles, a part of BK Modi owned Spice Group, has launched SPICE-C 5300 CDMA handset.Promising utmost usability and entertainment on the move, the phone is one of the most exciting options in the open market CDMA segment and strengthens the freedom of choice for Indian CDMA users. Users can now choose the service provider and enjoy the exceptional features of Spice C-5300 like MP3 player, FM recording, Digital Camera, expandable memory and one touch torch etc.
The phone has expandable memory with a long battery life of 1000 mAh offering talk time  up 210 minutes to capture and enjoy endless moments, songs, in a click of a button.
The phone also has Hindi language to help users connect in their language of choice. Customizable home screen gives freedom to user to add or change the menus on home screen as per need and convenience. The Spice C-5300 is accentuated with other competent features like, mobile tracker to relieve user from the tension of loosing his phone as it can be traced even after it has been lost and call blacklist that empowers users to bar calls from unwanted numbers.
Spice C-5300 comes with a Free USB the phone is priced at Rs 3,549.