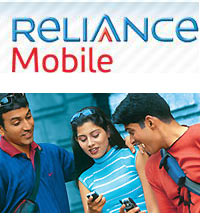 Reliance Communications (RCom) has added 3.38 million new customers in February 2009 on both GSM and CDMA networks, increasing its total subscriber base to 69.38 million.However,this is below RCom's subscriber addition of around 5 million recorded during the previous month.
At present, RCom is the second largest operator by subscriber numbers, while Bharti Airtel retains the top slot with 91.11 million users. Vodafone with 65.92 million is in the third slot, followed by state-owned Bharat Sanchar Nigam (BSNL) with 44.18 million users.
With the additions done and dealt with, let's have a look at the India's Top 5 Mobile Operators in terms of user base are as follows.

Airtel 91,114,971
Reliance 69,381,000 (Gsm+Cdma Mobile)
Vodafone 65,920,902
BSNL 44,180,880
Idea 41,518,613
RCom, which was mainly CDMA-based service provider, had launched GSM services in January 2009 across 22 circles in the country.