Qualcomm plans to use its success with its ARM Snapdragons chips to foray into Intel's turf of PCs. Microsoft and Qualcomm on Tuesday announced new Windows 10 devices running on a system powered by Qualcomm Snapdragon mobile chipsets.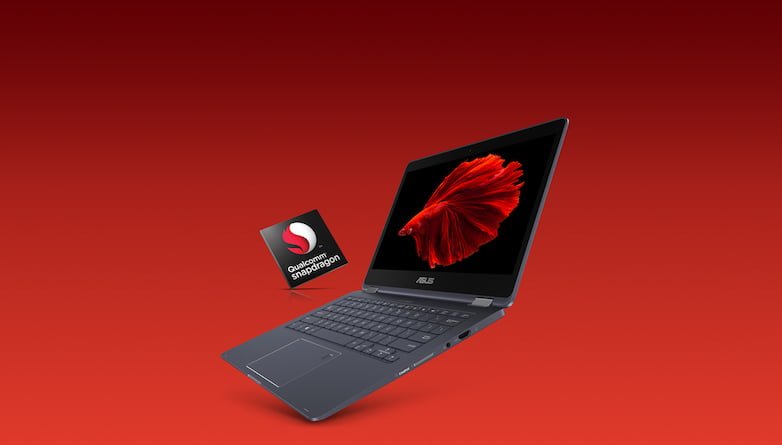 Qualcomm said most of its CPUs would power 2-in-1 laptops instead of powerful Intel PCs. The idea behind this is to create "always connected" PCs that rely on 4G/LTE instead of Wi-Fi. Qualcomm also intends to incorporate smartphone-grade battery life into these PCs with a typical life of more than 20 to 22 hours.
At its Snapdragon Tech Forum, Qualcomm showed off its Snapdragon 835 Mobile PC platform on an HP Envy x2 tablet and an Asus NovaGo ultrabook. The third PC from Lenovo will be announced at the CES 2018 show in Las Vegas. This is the same processor used on the high-end smartphones like Galaxy S8, OnePlus 5 and Nokia 8.
Let's take a look at the first Snapdragon 835 powered 2-in-1 laptops.
Asus NovaGo
Asus' NovaGo 2-in-1 comes with a 13.3-inch HD display, up to 8GB of RAM, and up to 256GB of storage. The NovaGo comes with an estimated 22 hours of battery life and 30 days in modern standby. There's even stylus support, a single HDMI port, two USB 3.1 ports, and a microSD reader.
The Asus NovaGo comes in two different configurations- one with 4GB of RAM and 64GB of storage priced at $599, and the other one with 8GB of RAM and 256GB of internal storage, which sets you back by $799.
HP Envy x2
The HP Envy x2 is a slightly smaller 2-in-1 with a 12.3-inch display. The device packs Qualcomm 835 SoC coupled with up to 8GB of RAM and up to 256GB of UFS storage. HP is claiming up to 20 hours of battery life, with up to 700 in standby mode. HP's device also supports a stylus and will come with LTE connectivity. The Envy x2 will be available in Spring next year.
Both HP and Asus' devices come out of the box with Windows 10S, designed only to run apps from the Windows Store. Users, however, have the option to upgrade to Windows 10 Pro free of charge to get access to full desktop range apps. HP is giving "one-time option" to switch to Windows 10 Pro, and Asus offers a free upgrade prior to September 30, 2018.