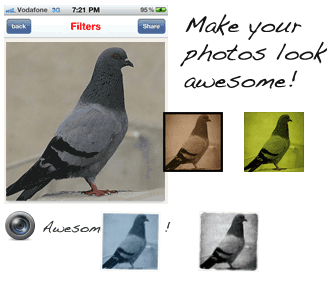 Meet Kabutar a kickass photosharing app that's launching soon, photosharing apps in the market today like Instagram or Path are solely focused on sharing memories with friends. Kabutar differs in its approach by tying a broad set of uses around photographs.
The Daily feature helps users take a photo of themselves everyday and set that as their status message on a variety of social networks. It also creates an awesome time-lapse video of how they've changed over a period of time.
The Photos feature helps users make their photos beautiful through a series of filters that they can apply and then share with friends.
The Q&A feature allows users to ask friends and followers anything from 'How does this dress look' to 'where can I buy a lamp that looks like this'.
The 4Sale feature is a simple classifieds section that allows users to quickly and easily take a photo of an item they want to sell and post it online.
Kabutar makes it crazy easy to share all your photo content on facebook & twitter too. Signup for the beta today at: kabutar.in and yes do submit your filter  kabutar.in/submitfilter.php if you are lucky enough you can win iPhone 4.