A device in this series and price segment was introduced initially with the LYF brand launch in the market. We grabbed a device as soon as it hit the market (early adopters) and used it for sometime. During this time personally experienced many issues at different levels and here we come up with an overview of the same with LYF Wind 6 model or the eco system.
Quick overview of the specifications are as below :
Display :12.7cm (5′)
Camera : Rear Camera: 5 MP Auto Focus + Front Camera: 5 MP Fixed Focus
Battery : 2250 mAh
RAM : 1 GB
OS : Android Lollipop 5.1.1
SIM : Dual (4G+2G)
Processor: 1.1 GHz Quad Core
Network : 4G LTE Cat 4, 150Mbps DL & 50Mbps UL
4G : 850, 1800, 2300 MHz
3G : 900,2100 MHz
2G : 850,900,1800,1900 MHz
In the Box : As shown in the image above – a headset, USB cable and charger. Very minimal packing. No much Jio flavors packed in the box.
Purchased Price : Rs 6499 , Current Price : Rs 5999.
Warranty : 1 Year Manufacturer Warranty on Mobile Phone + 1 Year LYF additional warranty and 6 Months Warranty for in the Box Accessories
Complete specifications can be found here : LYF Wind 6 Specifications
Experience at Reliance Digital Store :
They themselves have no clue on any predefined conditions in selling the handset. After a lot of internal enquiry the store sales personnel finally confirmed "SIM cards are not available at this point of time but since you are an early adopter you will get a JIO SIM card with bundled offers. We will call when the SIM cards are available, please bring a proof along with you so that we can proceed with SIM activation" saying this the store personnel handed over the LYF device and the celebrations started.
Result :
After a month of follow up with digital store team, I learnt that Jio ditched all it's early LYF handset adopters. The mindset of the operator can be sensed from this act. Leaving hopes on Jio I planned to use the device with my existing number.
My Expectations :
A basic Android phone for calls/messaging, music and decent battery life. Initially I wanted to use this device with my primary number owing to the fact that I really wanted to experience it to the maximum. I have no high hopes on Jio SIM anytime nearby. Continue reading to know if the device met my basic expectations.
Initial Setup :
Initial setup was just like any other android device. Not much bloatware and a very straight forward setup and use.
About Phone :
Call Quality and Experience :
This device failed to serve the primary purpose of a phone call. Not sure if anyone else have experienced the same issue, the call clarity is very pathetic. The other party is hardly able to hear any voice from my end. After struggling a couple of days relying on this device for voice calls facing embarrassing situations with some important calls, I decided this device is not going to be my primary device for calls.
Charging :
Such a bad charging experience. The device used to take nearly 3-4 hours to charge back to full. Ignoring turbo charging technology at such pricing segment, this device left me with awful charging experience considering other devices like moto in this segment.
Battery Backup :
This is another practical joke now, on 4G it hardly lasted for 6 hours standby. Anyhow I felt this is absolutely fine and went checking the battery backup while on a phone call. 30 approx minutes of voice call on 2G/3G and it struggled to avoid a warm experience. Packed with 2250 mAh battery, I expected a decent battery life but the device failed.
Music :
I really enjoy music and my only hope left is music with this device now. Surprisingly, with a different branded headset used with this device I'm satisfied with the sound quality delivered. Speaker volume is also decent and I finally used this device just for music play back / streaming HD quality audio on 4G.
Camera :
Though I was not able to pull up pictures I captured using the device at the time of writing this experience due to device malfunction, the pictures are decent considering the 5MP sensor of the device. One gets an OK feeling with the quality of images.
Touch Screen :
Compared to moto devices at this price segment, touch sensitivity is a very disturbing experience again on this device. If this is your first android phone you will never feel like using one again.
Performance :
Trust me, the specifications failed to deliver what they actually should. Hardly the device was able to deliver a smooth no lag experience with just 2 applications opened (Whatsapp and twitter) and running. The screen always used to lag while swiping the screens and multitasking is also a hiccup. This completely leaves you behind a good android experience. If you have already used it, you must have also felt the same.
Network Settings :
I loved the wide range of Network setting options available on the device. From LTE only mode to LTE/3G/2G mode, I'm really impressed with this section of settings. If you are on LTE Only mode without VoLTE you will not be able to make or receive calls and only SMS/Data works.
Resale experience :
I know, No person in senses will buy this device in used category as well on Quikr/Olx. But still I tried and posted an Ad just to quote my experience here.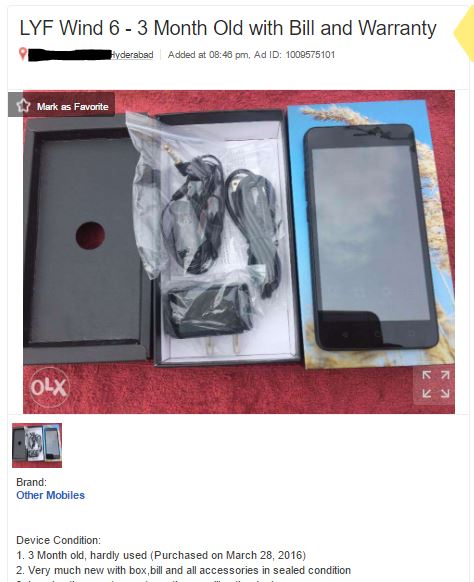 Dear Readers, Don't even have a hope that you will get a call/SMS from someone interested in these devices.
Now with Jio bundled offer no one will be ready to buy these devices without freebies.
Even if the device is put for sale along with SIM+Freebies, why to risk as the SIM will be activated on your proofs.
No Resale value.
Still the market/ customers who look for resale phones are not aware of this brand. So, hardly people will come forward to buy this brand.
Leave about interest to purchase the used device, the views of the ad from past one month hardly counted 3. So, you can imagine the scenario if you have any idea to sell these devices soon.
Issues we faced during our use :
I decided to use Reliance GSM SIM along with this device to get an awesome experience clubbed together and finally it ended the below way.
https://youtu.be/c6a1OYz7FGY
2. The device stopped recognizing any SIM inserted and screen started to flick with or without SIM.
Service at Digital Store :
1.Being already fed up following with digital store team, some how I managed time to take this device to the store where I purchased.
2. The store executive initially didn't understand the problem I tried to explain. After I asked him to use it, he understood and just said "Phone fell down and that's the reason for this weird behavior". I know I'm wasting my time already, got irritated and asked the executive "show me one scratch or mark on the device I will leave the device here and leave".
3. Having no answer, the store executive provided me with Jio Service center address and asked me to visit it for software update. I visited the address but couldn't find any Service center in that area. Finally, I gave up with a hope that one day I will get it repaired as I know I already wasted money on this device and every minute I spend more on this is of no use again.
Some Embarrassing Personal Experiences I faced :
Not sure of the brand value, but still when using at work, people asked which Chinese brand is this?
People started to give a wired look at the device while using(as if I made a SIN). I soothed myself, new brand will take time to absorb and ignored these situations which I came across.
So, be prepared to face them too.
Pros :
You get bundled freebies along with the device which will equate the investment on this device.
Can be used to listen Music with good headphones.
Cons :
Battery charging time
Awful calling experience
Lags a lot
Warms up at times
Over priced for it's performance and specifications
Dear readers, with bundled offers available now, any user can choose any device of their choice. If you ask me, I still repent for spending money on this handset even if Jio had provided me with bundled freebies as an early adopter. Have you used LYF Wind 6 already? If so, please share your experiences via comments or tweet me @Srikapardhi. Do also let us know if you want LYF brand to be your first smartphone handset and how good are these devices at performance in real use?
Note : Views shared here are my personal experiences. The same may or may not apply with the same model/brand or with other users. You have every right to select a device of your choice.