mAadhaar app, a new solution announced by the Unique Identification Authority of India (UIDAI) that lets you carry your Aadhaar card digitally wherever you go. Yes, you heard it right. The mobile Aadhaar app or mAadhaar app will let you carry the Aadhaar demographic information, in short, a digital Aadhaar card.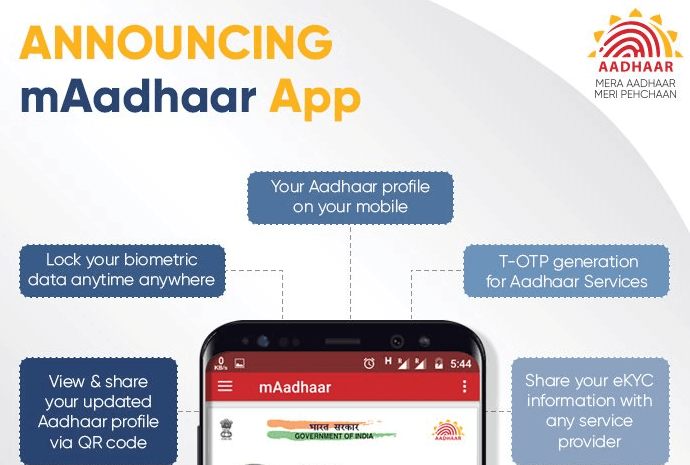 UIDAI announced the news on Twitter yesterday, and the application is already up for download in Google Play Store. Sadly, the app is available only for the Android users, not for iOS users. With this application, you can show your Aadhaar wherever applicable, and it removes the hassle of carrying a hard copy of the card.
The application also has some features. For example, users can enable or disable their biometric data. "Once resident enables Biometric Locking system their biometric remains locked till the Aadhaar Holder chose to either Unlock it (which is temporary) or Disable the Locking system," says UIDAI.
Further, there's a new 'Time-based One-Time Password (TOTP),' which is an algorithm that computes and OTP from a shared secret key and the current time, which removes the hassle of SMS-based OTP functionality.
The application will ask to set up a password right after opening it. And the password should comprise of small letters, capital letters, numerals, and one special symbol.
After setting up the password, it will ask you to enter your Aadhar card number, or if you have your Aadhaar card, you can scan the QR code to let the application do its work.
That said, the application will retrieve your details only if your Aadhaar is linked with any mobile number. Otherwise, the application will display an error saying that mobile number is not linked to your Aadhaar.
If you have successfully registered the Aadhaar number on to the application, then it will ask for the first set up password to display the details.
However, the disappointment is that the app only shows your Aadhaar details and you can modify or update the details via the app. UIDAI might add this feature in the coming days though.
And do make a note that the app is still in beta stage, nevertheless, it's already live in the Play Store. Check out the app by searching as mAadhaar in the Google Play Store.