LeEco (formerly known as LeTV) is no more a new name for the Indian smartphone market. The LeEco Le1s has brought laurels to the company with its huge sales graph in India. With its fresh lineup of Le 2 and Le Max 2 smartphones, LeEco is trying a new strategy, regarding streaming services in India. Not many know that LeEco is also called Netflix of China, and it is a big shot in providing streaming services in its homeland.
Priced moderately at Rs. 11,999, the Le 2 is LeEco's best foot forward to woo the Indian consumers. It is a mix of hardware plus content. The device made heads turn with its USB Type-C audio, which means that it does not feature a 3.5mm audio jack. However, the company does provide a USB Type-C to 3.5mm jack adapter with its package. Also, the device comes bundled with a one-year free membership to its entertainment-based services.
Design and Display
The design pattern of Le 2 is pretty much like every other phone in its range. It does not look bad, but it won't stand out for its design. The display has thin bezels on either side. The 5.5-inch Full HD IPS in-cell display with 500nits brightness, and 80% NTSC color gamut is impressive and works well when playing games and watching videos. The viewing angles are crisp and do justice with LeEco's content-based services.
On the left side of the device, you will find the Dual Nano SIM card slots without microSD card slot. The Le 2 lacks expandable storage, which means you have to settle with 32GB of internal storage. The USB Type-C audio port is placed at the bottom of the phone. On the rear, you will find rear camera lens and glossy fingerprint scanner, which is very responsive and unlocks the device in a jiffy. With its metal body, the Le 2 does give a premium feel.
Hardware and Software
The Le 2 comes powered by an Octa-Core Snapdragon 652 processor (Quad 1.8GHz ARM Cortex A72 + Quad 1.2GHz A53 CPUs) with Adreno 510 GPU. The chipset is good enough to handle whatever you throw at it. For gaming, the Le 2 is a fine device; We played Asphalt 8, and there was no frame drop or lag when played on the medium graphics, but on high-graphics, we did notice frame drop and lag. The variant we tested has 3GB of RAM, but most of the RAM gets exhausted due to the pre-bundled content based services. However, this does not affect device's performance in handling other tasks. It is fast at multi-tasking.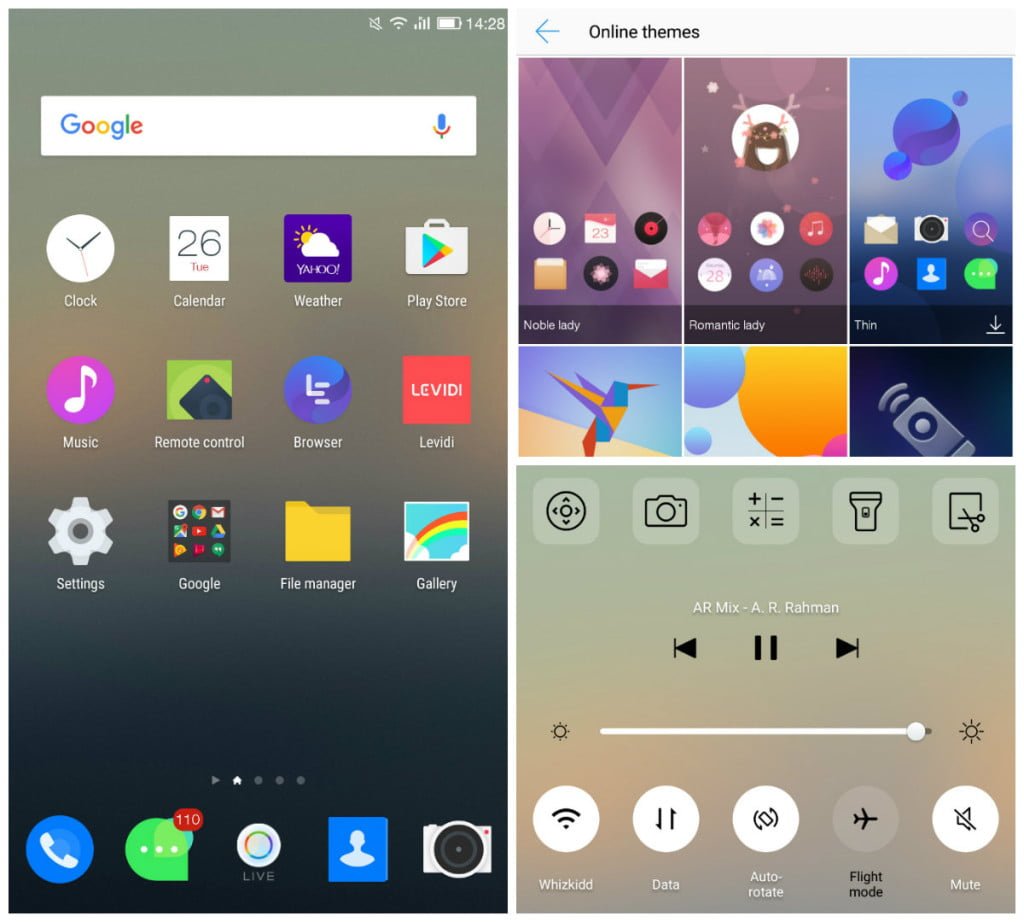 On the software front, the Le 2 runs Marshmallow-based EUI (Emotion UI). Similar to other Chinese phones, this one too lacks an app drawer, which might not please everyone. However, once you get used to it, there won't be any problem. The UI has stark resemblance with Apple's iOS, something that Vivo too has adapted in its phones. You will find a button in the middle of the Home screen, which looks like it opens the app drawer, but the button is for Live TV app run by LeEco.
The UI is heavily customized to promote LeEco's multimedia services. For users who do not like watching Live TV or videos, these services will come across as bloatware. Also, when we tried using Yupp TV on the app, we noticed downtime issues accompanied by error messages from time to time. It seems more like a software issue, though.
Camera and Audio
The Le 2 sports a 16-megapixel primary camera with dual-tone LED flash, f/2.0 aperture, and PDAF. We took a few images to check the camera quality. You might find it average in low-light conditions. The good thing about Le 2's camera is that it focuses on the subject quickly, which saves a lot of time when taking images. The camera has got cool on paper specs, and it has got the potential to click excellent pictures, but somehow it has got issues with White balance. But, yeah it does a fine job when we see from a regular user's point of view than going deep into quality comparisons.
CDLA Audio
Coming to its CDLA Audio quality, which created quite a stir as the company left 3.5mm audio jack for a USB Type-C audio port. CDLA stands for Continuous Digital Lossless Audio. The difference between a 3.5mm jack and CDLA is that the former uses analog signals while the latter supports digital signals.
The sound quality was good, but not much different from high-quality 3.5mm jack earphones. Also, please note that LeEco does not come bundled with a high-quality CDLA supporting headsets, which means that you have to buy high-quality earphones to listen to the pure quality of CDLA output.
Battery and Connectivity
The Le 2 supports 4G LTE and VoLTE, which offers good results. Other connectivity options include Wi-Fi 802.11 ac/a/b/g/n (2.4/5 GHz), USB Type C, Bluetooth 4.2, and GPS. It is backed by a 3000 mAh battery with fast charging. The battery lasted for an entire day, and under this duration, we played games, watched videos, clicked numerous images (hell lot of selfies!). It has a USB Type-C charging port, so be careful that you carry its charger with you.
Conclusion
The Le 2 is an excellent device, especially when we look at its pricing. It gives a real competition to the Redmi Note 3 and Yunicorn. It makes a good buy and offers a different experience with its USB Type-C and CDLA audio technology. After the roll out of some significant software updates, the device should work even better than what we tested it on.