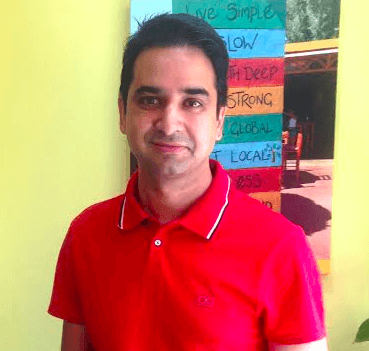 Rajesh Razdan established mCarbon Tech Innovation during early 2008. The company creates compelling platform-based offerings for the telecom companies, which enabled them to generate revenues in the areas of usage and retention, customer life cycle and value management. Two of its flagship products include micro loan for talk time/data and dynamic end-of-the-call notification for prepaid customers.
The technology solution innovator now leads the market with a huge client base including Airtel, Aircel, BSNL, Docomo, Idea, MTNL and MTS. Several enterprises, including Axis Bank, HCL, Infosys, L&T, Maruti Suzuki and many more too have availed its services, that mCarbon is currently an inevitable player in the industry.
In this interview, Rajesh Razdan talks about the existing market scenario, mCarbon's role in enhancing the services of telecom companies, net neutrality, LTE networks and more. Excerpts from the interview:
How does mCarbon help telecom companies to improve customer value management?
mCarbon is one of the pioneers in the space of usage and revenue uplift for mobile operators worldwide. We operate largely in India, South Asia and parts of emerging economies in the world. Customers tend to stay dormant on their networks. Telecom companies worldwide are facing this issue and we help them solve this, by providing well crafted innovative value added services, specifically in the areas of customers' lifetime value, usage and revenue uplift.
These are mass market services and plenty of users use them. As a consequence, you will see reduced churn, you will see a lift in the ARPU (Average Revenue Per User) and also see a lot of people engaging in these services. So, this is exactly the area we work and specialize in, to provide utilitarian service. This is also the area that has the maximum number of traction in terms of the customer interest, because this particular area covers 90-95 percent of their revenues. The entire prepaid revenue and the typical tempo is in this area of usage of revenue. That is the area we play in and we are right in the cusp of that area.
Which area do you focus more, on technology front of the telecoms or on the customer front?
We work on both sides. We work with telecoms, and most of the services are directly marketed and sold to them, which eventually is marketed on to their own subscribers. We also have telecom-specific applications which we don't sell through telecom companies. If I sell a particular service or an app to a telecom, it will be branded from a telecom's point-of-view. At the back-end, it will be managed, developed and engineered by us.
Can we address mCarbon as an ultimate VAS provider more than an IT-analytics provider?
We work deeply with usage analytics. The area we work for is usage and revenue uplift. Hence, unless we know the usage parameters or the usage patterns of the customer, it is impossible to provide an accurate service.
To say, in order to design a campaign, I need to know a user's likes and dislikes. That is gathered from the various data usages a user consumes in a network. When you call somebody or text somebody, or use various other types of data services, we track them. We use them on the own decision support systems and then make a service which is relevant to a user. It's an adaptive and contextual kind of marketing.
Also, we are not providing content type VAS that was prevalent in India at some point of time. Instead, we use analytics data to create value added services with the telcos. In one way, we can call ourselves a Value Added Service (VAS) provider, but we may not match with the classic definition of a VAS. Accurately, we call it U&R- usage and revenue uplift.
VAS 2.0 is the new generation of services that the telecoms are offering. For example, we are the largest provider of airtime advance or micro loans for voice and data globally. We handle the largest volume of such small loans globally based in India. Millions of loans are generated through the platform every day, where people do not have balance in their account and they take small loans. Another product is the end-of-call notification. That is, after every call, we give you message based on usage on what services can be taken and what are the benefits, which is a more interactive service.
We run in the model like typical VAS, but use a lot of consumer analytics to see what is relevant for the customer. In a way, it is the next generation of VAS that we provide via telecom service.
Since you primarily work on the usage and retention aspects, can you provide an insight into the current market scenario, especially on things that would retain a customer for a telecom?
There are two things, first is the basic services given to the consumer. It includes a complete efficiency of the services like the voice call should not drop or a data session that do not hang in between. The second is all kinds of innovative products and services like the ones we provide. People start seeing value in the service provider through these services and then decide not to shift, because it is very consumer-friendly.
The kind of services that we give like micro loans and somebody can give me a plan based on my usage, or not try and sell something that you want to sell is a very different approach to customer management. If a user is calling from Bangalore to Punjab quite often and if I know this pattern, I can give a pack and a product where there will be 30 minutes of calling to Punjab more than something else. If you give the control back to the users by knowing enough about his usage pattern, then you are giving a very interesting tool to the user by virtue of the certain service or a product that you launch. Then there is no reason for a customer to change network.
Services like small loan, micro loans et cetera help you when you don't have a retailer next to you to recharge. You can simply take a loan from the system for Rs. 20 and next time when you recharge you will pay back that amount. These are innovative services that one can think of.
As I said in the beginning, telecoms also should ensure that the basic voice and data session are handled well. That will make sure retention is there.
Will the customized plans like that of Airtel's or Vodafone's MyPlans work in the market?
Our services are different for prepaid and postpaid. The postpaid customers need to pay the bill on time or the connection is cut, which is a problem for users. So, we provide them low balance alerts as voice messages before a user makes a call. For prepaid, there is no bill, hence the approach is different. If the user runs out of balance, we provide them with a micro loan service. Both are examples of user engagement, but with a different approach for different set of targets.
What is your market forecast for the year?
Macro trends will be seen in the segment of data, which will continue to grow. The apps riding on data and usage of mobile internet will continue to grow tremendously in the next 2-3 years. 25 percent of data penetration will grow to 50 percent in the next two years. This is a large number which will spur the growth of e-commerce, especially the mobile transactions.
Micro trends will be seen on the operators' efforts to drive usages. Analytics will play a core role. Also, targeting and segmentation will play be significantly considered. The customer service and self-care will witness changes with more people using more apps. These macro and micro trends will continue in the next 2- 3 years.
How does the Indian market differ from that of developed markets like America and Europe?
There are two things, one we are uniquely different in the way the countries are built. On the basis of purchasing power parity or GDP, we are not developed nation, we are only a developing nation.
The economies like America and Europe have completely postpaid economies. Their ARPUs are as high as 20$ or 30$, whereas in India, we are talking about 3$. Purchasing power of a consumer in India and the cost of running operation here are very low when compared to the developed nations.
Also, there is a difference in the way people here adapt to a particular app or services when compared to what people choose in West. India is culturally very different from the rest part of the world. We are challenging opportunities in both ways. There are opportunities, the inefficiency in the system and basic internet is not there.
People are developing and are following the west in a certain way. The good news is that we have one of the strongest middle class economies in the world. There are 500-700million people, who are given the right type of service. They have the disposable income that will make Indian economies look up many years to go. This will give some sort of unique experience that rest has not seen because the numbers are very large.
The challenge is that there are so many languages. Technically, you cannot call India as one country. It's almost like 29 countries with different languages and taste of people. You need to cater each of them. So any technology which comes to India has to be dealt differently because of the psyche and culture of the people. People are also price sensitive.
All these things have to be taken care before you make it successful. I am, on the contrary of the belief, there are many such things that can originate India because of the efficiencies here. Some of the things that work in India may not be relevant to developed countries that they may not even have heard of them.
With around 13 telecom players, India is a crowded market. Is this crowded nature of the market a boon or bane for players like mCarbon?
I think it is challenging for us. Nobody is happy with these 13 operators and these 13 are not going to be there for the next one year or so. We cannot compete in these markets. A customer expects to have three to four good choices and not 10 different choices. There is a huge difference between these services. These 13-14 choices is actually providing a bad competition. Somebody is under cutting and somebody is taking advantage. The government frames friendly policies with the intention of taking it to the next level, there will be a lot of consolidation happening and the story will change in the next 12-15 months.
How do you think the present challenges of LTE in the market can be converted into opportunities? What are the possibilities for telecom operators?
LTE is a challenge because of the evolution itself. India is growing in a certain way and will have that potential. If we talk about 3G, it did not do much to the customers as anticipated. This could be due to inefficiency or complex culture. Then you have to put lot of capex into the network to make it work. Again for LTE you need to spend a lot of money into a network. If there is no reasonable business source coming, people are not willing to pay that price. How will operators recover that money? I may not even invest a huge $3 billion, if I do not know how to recover it from the market. People need to understand that the business plan has to be fruitful.
There has to be few customers who will be willing to pay the amount for the services offered. The economy will grow up because you will have different levels of services being offered. Regulations should also be in par with the telecom operators to make things happen. All we are looking is for a green signal from government so that they can roll these networks fast.
What role does mCarbon play in rolling out 4G in the country?
Our technology is what we believe. We already have the things required for the network to survive. We use that as an incremental addition. We have adapted ourselves for the future technologies.
We have this greenroom open concept and it gives you adaptors for all kind of technologies that are relevant for the integration point-of-view. It is a complete utilization framework, which reduces the implementation time from four months to almost 40 days. That becomes even faster to go to the market.
We don't have time to waste on 4-5 months on terms of implementation and technologies having this IPR which we are given most of our services can be launched between 3-6 weeks. Then it is ready to roll for more than 200 subscribers.
What are the future plans of mCarbon?
We established our presence in South Asia. Besides India, we are there in Bangladesh and Sri Lanka. Soon, we are planning to expand to Indonesia, Vietnam and other parts of Middle East and Africa. They are huge prepaid economies. Later, we will move to other markets.