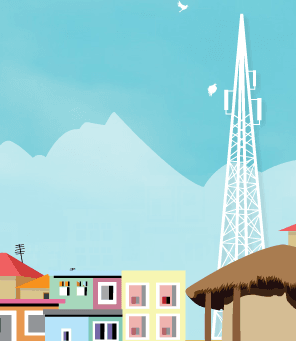 The telecom market of India is still on the phase of expansion and attractive to operators, passive infrastructure providers, equipment vendors, OEMs and other related industries. Telecom industry today has become as important to the economy as another basic need for people.Few operators and manufactures have come forward and shared the post budget reaction and we have summed it up.
Vsevolod Rozanov, President and CEO MTS India
Vsevolod Rozanov, President and CEO of Sistema Shyam Teleservices which operates in the country under brand name of MTS India has expressed his views on the recent Union Budget he cites that "While many systemic elements have been set right in the 2012-13 Union budget, however the telecom industry continues to face numerous challenges. Increase in service tax from 10% to 12% would increase cost of ownership of a mobile phone. This becomes all the more significant for CDMA based mobile services which to a large extent services the telecom needs of customers who are at the bottom of the pyramid.
From a global perspective, the telecom industry in India continues to attract the highest tax rate of 23%. Looking in AGR terms, the telecom industry generates revenues of approx. Rs 122,000 crores, out of which Rs 28,000 crores is the approx. outflow to the exchequer. It would have been good, if this could have been rationalized. The telecom industry is clearly getting squeezed on account of such outflows and what makes the situation all the more difficult is the hesitation of banks to lend money to operators.
All this naturally has a deep impact on the roll out of voice and data services for the common man, specially in the rural areas. Equally significant is the fact that broadband penetration in India stands at just 1% as against the wireless teledensity of 74%. With the national broadband plan envisaging 160 million broadband connections including 60 million wireless broadband connections by the year 2014, It would have been good, if this growth path would have got some support through easing of taxes on internet and broadband services. Given this overall context, if the Indian telecom industry is declared as an infrastructure industry that too would immensely benefit the entire ecosystem.
Sanjay Kapoor, CEO, Bharti Airtel, India & South Asia.
When Mr. Pranab Mukherjee quoted from Shakespeare's 'Hamlet' to joke about the tough job FM has towards ensuring the interest of a range of stakeholders – one couldn't help but think of the "har friend zaroori hai, yaar" reference and empathize with the challenge involved in leading this mammoth task. Given slowing growth of the economy and rising inflation, the Finance Minister has had a difficult job of devising the country's economic plans for FY2012-13. Despite challenges, the Government has been able to deliver a practical and inclusive budget for the next fiscal – one that reinforces the treatment of the Union Budget as a process rather than an event.
The FM's strategy towards fiscal consolidation will play an eminent role in containing challenges faced by the economy and contribute towards 7.6% GDP growth projection for 2012-13. With ongoing long term focus on planned fiscal deficit reduction, the budget proposes noteworthy reforms across manufacturing and infrastructure which should boost employment. Reforms announced are expected to add thrust to agriculture and power sector growth and should contribute towards revival of the aviation industry. Enhanced focus on Governance as evident in measures like UID funding will surely enhance the disposable income in the rural areas and prevent leakages within the system. Reduction in subsidy is a welcome move, but the process of implementation needs to be detailed out further. Other laudable effort lies in definite move towards, Direct Tax Code, GST regime, FDI in multi-brand retail – but it will be meaningful to set a deadline for the same.
The telecom sector is already burdened with multiple and high tax levies which account for 30% of the telecom services revenue. The rise in Service Tax from 10% to 12% will increase cost of services to customers and also impact the P&L of telecom companies. As a highly taxed industry, this will certainly have a further impact on the consumer. We see proposals on mobile based fertilizer subsidy tracking and heightened IT enablement as factors that will as opportunities to drive the growth of ICT. Additionally, FM's recommendation for gap funding of telecom towers, cables and optic fibres should lead to reduction in cost of capital for telecom infrastructure. Reduction on duties on mobile parts should enhance affordability and stimulate demand for mobile services across the country."
However we must keep in mind that the life the telecom sector does not wholly depend on the budget pronouncement- only the sentiment needs to be positive. We hope this budget will be a harbinger of a healthy telecom policy, which would be inclusive and enable viability of the industry at large.
Sunil Dutt, Managing Director, Research In Motion India.
It can be said that the Budget was well balanced and focuses more on long-term growth aspects instead of short-term populous measures, can be termed as positive and growth oriented. It indicates some prudent steps towards fiscal consolidation and reflects that the government is sincere about the fiscal situation going forward. The proposed full exemption on mobile phone part may further make the smartphone affordable to larger section of the masses and basis the direct taxes, the increase in disposal income will further enhance the penetration of smartphones. The budget is expected to stimulate growth for agriculture, banking & m-payments industry with development of tier II, III markets. This will in turn enhance the adoption of mobility contributing to the overall growth of the economy. Introduction of a constitutional amendment for GST is also a positive development.
Anjan Deb Ghosh Head- Corporate Sector Ratings ICRA Ltd
VGF funding is likely to promote laying of fixed networks, which is important for development of high-bandwidth connectivity. Also, VGF funding could provide impetus to development of new telecom towers, which has witnessed some slowdown in recent months. The budget initiative should have greater impact on expansion of telecommunications in rural areas, which has lagged in contrast to the growth witnessed in urban areas. Nevertheless, eligibility and implementation of VGF funding remain to be seen.
Exemption on customs duty on parts of memory card for mobile phones is a positive for domestic manufacturing of these memory cards.
So as a reader whats your take on Union Budget 2012 do share your views via comments