With the ongoing or yet to be hiked prepaid tariffs across various circles a good number of users may be looking for alternatives in postpaid section of services from mobile operators.It is worth a mention that postpaid users enjoy premium customer care and service response times along with detailed bill facility compared to prepaid users. So, ultimately it depends on the user which operator to choose from in their circle and tariff specific Plan. As already shared earlier Airtel launched myPlan and Idea cellular launched !plan across various circles and these are the only two operators at present who are providing users -  usage based dynamic plans to choose from various benefits by selecting packs.
We are very eager when will other Operators adopt these plans especially with Vodafone IN be it in a positive or negative tone. As always at TT we try to make base effort and present detailed analysis in a simplified format to users. In our effort we made a PAN India comparison of myPlan and !Plan from two premium operators.
Please Note: Different circles have different leading operators based on QOS, Network, Service and different people have different opinions on operators across various circles.We are now just making a comparison of only the PLANS put forward to users from operators. At present Airtel is offering only 7 MyPlans and 2 FTP/FTP-FR plan offerings in Postpaid sections while Idea cellular is offering 5 !plan Postpaid plans along with offering  other plans we well according to their website. We all just need to wait and see if Idea still continues to provide other postpaid plans as well or end up in future discarding other postpaid plans just like Airtel.
Circle wise list of No of Free Packs given by default:
Analysis on Pack Benefits : It is clear from the table that Idea cellular is offering benefits uniformly on PAN India basis where ever the plan is being offered. Airtel has recently added 799 and 1599 myPlan plans to their previous offerings of only 5 myPlan portfolio. Idea Cellular have no such offerings, may be it will take some time for them to replicate similar offerings based on the demand from users.
The Good:If we take it this way , we can say that Idea cellular is offering uniform plans across all the circles and doesn't want to distinguish between any class circles irrespective of the revenue generated and provide user with a uniform Plan experience where as if we go with Airtel , seems they have done some market analysis and came up with plan benefits depending on the Circle and provide value benefits to users depending on the value of respective circles where the user is from.
The Bad: If we take this way, we can say that Idea cellular have or haven't done market analysis but providing value benefits same to users across all the circles. This may effect the Plan share in circles where they are bad performers. Airtel (We really don't know if they really made some analysis or just played with numbers for premium circles) though came up with plans varying for circles they are only pertaining to 5 circles and it doesn't matter much. 
*Based on the information present on their website Idea cellular is not having !plans for Bihar and Jharkhand, Himachal Pradesh and Punjab and we also didn't find any information about Chennai.
Circle wise list of pack benefits :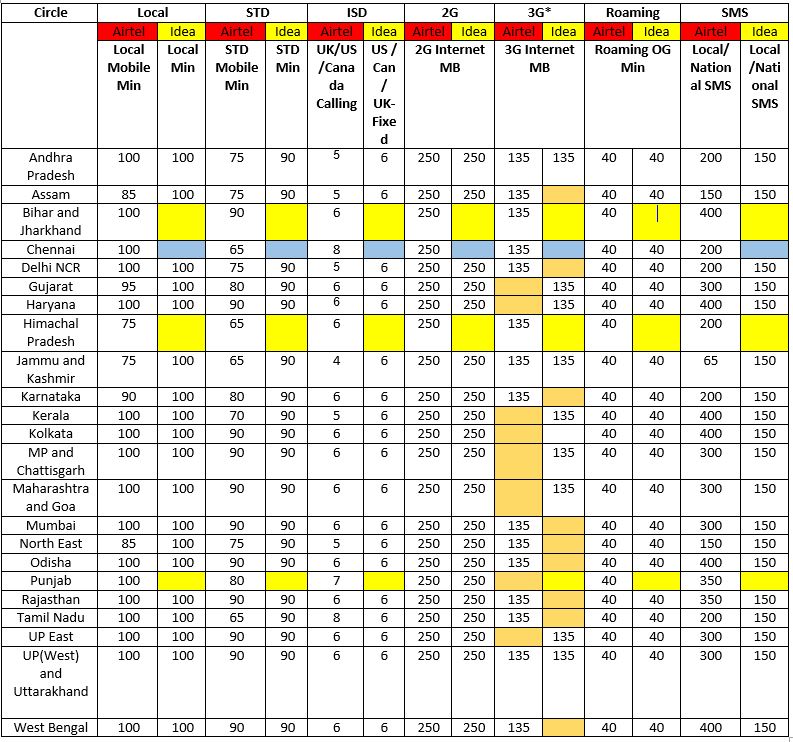 Pack Benefit Analysis: 
DATA : Airtel and Idea Cellular are offering same Data benefits irrespective of the circles 3G services are available and 2G on PAN India basis. 
ROAMING : Airtel and Idea Cellular are again offering unique Roaming benefit of 40 outgoing Roaming minutes when latched on to their respective Networks. 
LOCAL & SMS : Though Idea is offering uniform values for packs across all the circles their value packs are truly valuable as idea is providing Local and STD minutes which means a user can use those minutes for calling Mobiles or fixed-lines where as Airtel is providing only Local and STD Mobile minutes which means you will be charged as per base tariff if you call fixed-lines.
SMS packs of Airtel are giving more benefits across all the circles when compared with Idea Cellular. So people who text a lot can rejoice with benefits from Airtel sms pack values and we don't understand why Idea Cellular has not at least provided 200 sms in any circle?
You can ask or say - Are people still using Fixed-lines? I remember someone asked me am i using a LL ? I may say yes or No, that depends. But my answer is simple - if we take Postpay users i predict most of the users will be having a Bank Account and for example top Banks like ICICI, Citi are offering helpline numbers which are fixed-lines and it takes approximately 10-15 min for me to navigate through their IVR systems, get connected to cc and get assistance. So, as a user am i required to pay separately for it according to base tariff though i have free minutes in STD or Local? Pity on Airtel users :(
It may or may not , but i don't think most of the post-pay users uses their connections on an ordinary phone and if we can predict and expect that most of the users at least use a S40 phone, people use whats-app or some IM clients to send messages and sms packs from operators will only be in handy and backup for them. Now operators are even trying to regulate these applications as well.
Airtel: Base charges once the freebies are finished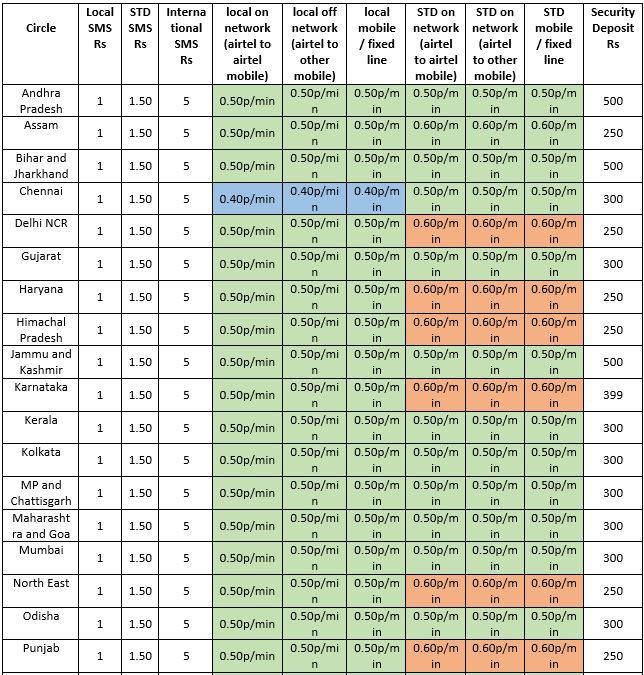 As all the details are tabulated it is very easy for any user to compare what they are getting in their circle.
Idea Cellular : Base charges once the freebies are finished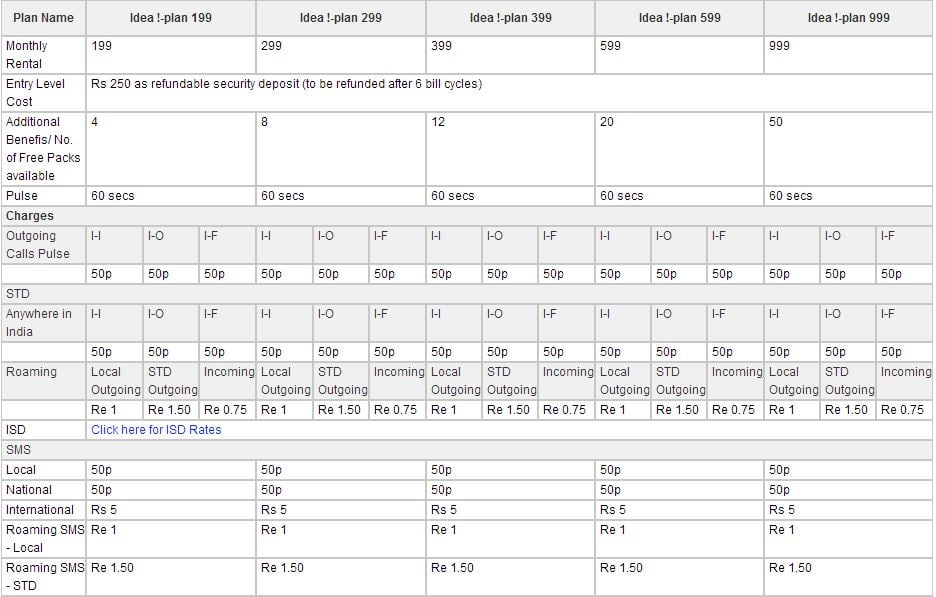 Security Deposit Details of Idea Cellular:
Analysis:  Idea provides default L/N SMS tariff of 50 paise once your free sms benefits are finished where as Airtel is charging as tabulated accordingly. Both the Operators provide a pulse rate of 60 Seconds. Idea Cellular is offering uniform base charges again across all the circles where as Airtel has tweaked the base charges across 8 circles respectively as tabulated.
As a user you need to decide depending on your usage, choice, the QOS of these operators in your circle which plan/operator you go for. We have done our part showing what really operators are providing.
Note : I have taken all necessary care and steps to avoid any wrong  information updated here in the tables. All this information is manually fetched from Operators website's and the information may or may not be updated or i have missed 100% accuracy quotient.Hope this helps users.
Dear users Do you like these Dynamic plans and offerings from operators? If so which plan you go for? If you Didn't like these plans do let and other readers know why as well.