Since the Rcom CDMA shut down in favour of 4G rollout by the operator has been the talk of the town over the past couple of months, I decided to throw some light on the dark underbelly of this whole migration process. Reliance has left no stone unturned in trying to lure its CDMA and EvDO subscriberbase to migrate to its new LTE platform in order to vacate the precious 850 MHz spectrum to be shared with Jio for further 4G rollout.
In the process of luring, Rcom had promised its Data card subscribers 5GB evdo data pre upgrade and 10 GB 4G data post upgrade on doing a recharge of denomination ranging from Rs.75 to Rs.97 varying from circle to circle. I owned a Pro3 wipod device and I also recharged with Rs.97 (Mumbai circle) as directed by Rcom and received the 5 GB EvDO data instantly.
I had full faith that I would also get the 10 GB 4G data once the new LTE wipod sim got activated. Even CDMA mobile users received SMS from reliance promising 10 GB free 4G data on upgrading from CDMA to 4G platform.
Now that Rcom has achieved its target of convincing the majority f its CDMA subscribers to migrate to the 4G platform it has conveniently withdrawn the 10 GB free 4G data post upgrade offering without any prior notice. Even their website now only shows 100 MB pre upgrade EvDO data benefit without any 4G data benefit with the recharge denomination having gone down to a flat Re.1 for all applicable circles.
This not an uncommon practice among operators who launch a product or service with a tempting introductory offer and later withdraw it or reduce the benefits, but operators do not dishonour the offering made during the introductory period if the subscriber avails it while the offer was present. In the case of Rcom what is disturbing is that the operator has not even honoured its own commitment and has not credited the subscribers with the 10 GB 4G data post upgrade even though the new sims and wipods have been activated for a while now. This is nothing less than a case of daylight robbery.
Above is the screenshot of the online live chat I had with an Rcom executive enquiring about the free 10 GB 4G data post upgrade promised by Rcom and he blatantly replied that Rcom has withdrawn the offer and now no subscriber will get its benefit irrespective of whether he/she had recharged with the applicable denomination that Rcom had prescribed while the offer was still available. I then lodged a complaint on pgportal and then the Rcom top level executives contacted me saying that even though Rcom has withdrawn the 10 GB 4G data benefit for all users, they will give it to me as a special case consideration but with 21 days validity only.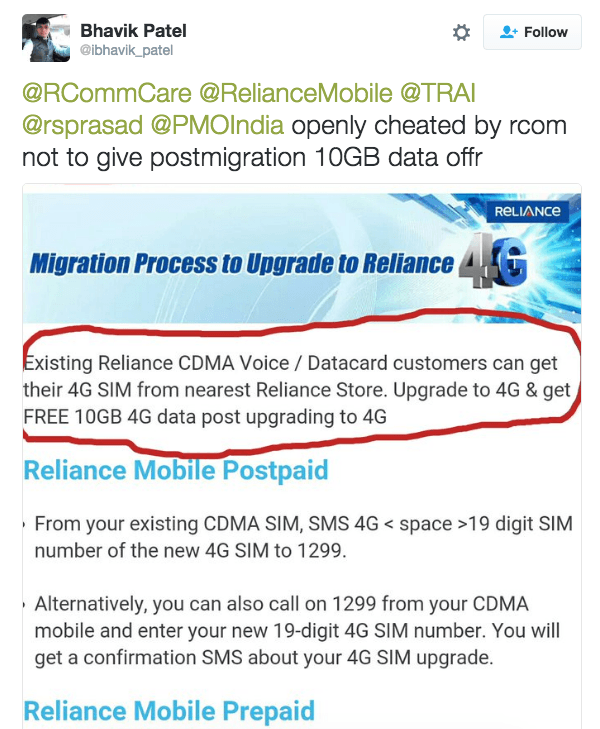 If any of you have faced the same issue I would suggest you to lodge your grievance on pgportal website under department of telecommunication. If a sufficient number of complaints are registered the operator will be forced to take corrective action. Do let us know your views and share your experiences through your comments below.
Note: Views expressed above are the author's own who is based out of Mumbai, the same may or may not hold true in other circles.