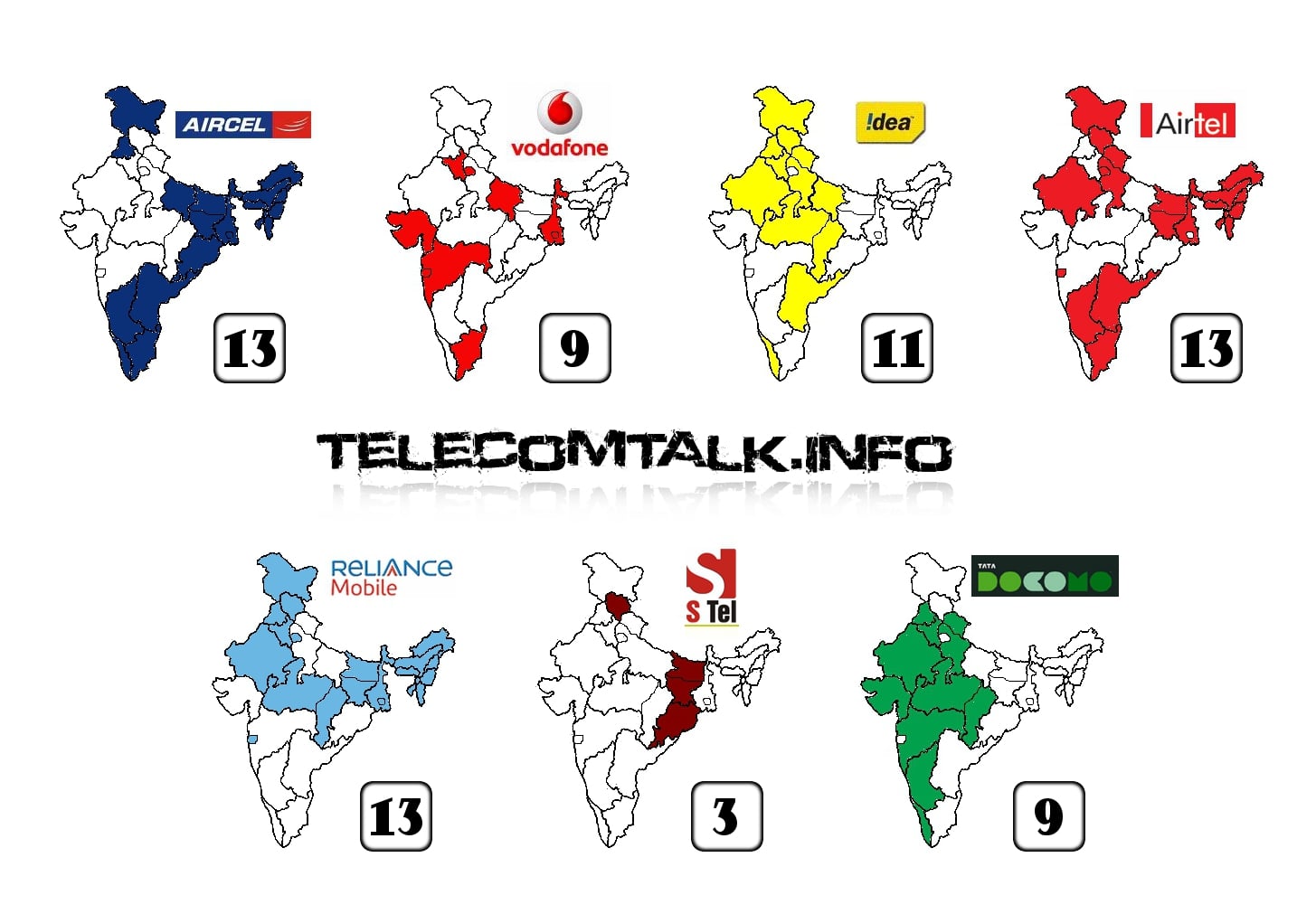 As we can see operators who won 3G license and spectrum has rolled out 3G services in selected cities and soon their 3G network will expand to more and more cities.
BSNL & MTNL, the PSU duo are on the 3G track since 2009 and till now only STel does not roll out 3G services.
At the first phase of 3rd Generation telephony services 3G tariffs are really costly. According to my personal opinions, 3G pricing should be 3-4 times more than 2G pricing. So 2GB data on 2G which costs around Rs.98 should be priced at Rs 300-400 if you are on 3G.
But current pricing of 2GB 3G data costs around Rs 750 from any private operator; note that BSNL is also charging Rs 716 for 2GB 3G data. After withdrawal of Unlimited plans by BSNL, there is now no cheap 3G offering except MTNL.
As we can see operators charging huge if you choose PayAsYouGo plan:
| | |
| --- | --- |
| Operator | PAYG Plan |
| Aircel | 3p/10kB i.e. Rs 3/MB i.e. Rs3,000/GB |
| Airtel | 30p/20kB i.e. Rs 15/MB i.e. Rs 15,000/GB |
| BSNL | 2p/10kB i.e. Rs 2/MB i.e. Rs 2,000/GB |
| MTNL | 1p/10kB i.e. Rs 1/MB i.e. Rs 10,00/GB |
| Idea | 10p/10kB i.e. Rs 10/MB i.e. Rs 10,000/GB |
| Vodafone | 10p/10kB i.e. Rs10/MB i.e. Rs 10,000/GB |
| Reliance | 10p/10kB i.e. Rs10/MB i.e. Rs 10,000/GB |
| Tata Docomo | 10p/10kB i.e. Rs10/MB i.e. Rs 10,000/GB |
This indicates operators simply discourage users to go PAYG plan, and forcing them to use any data pack.
A comparison between all 3G operators data plans: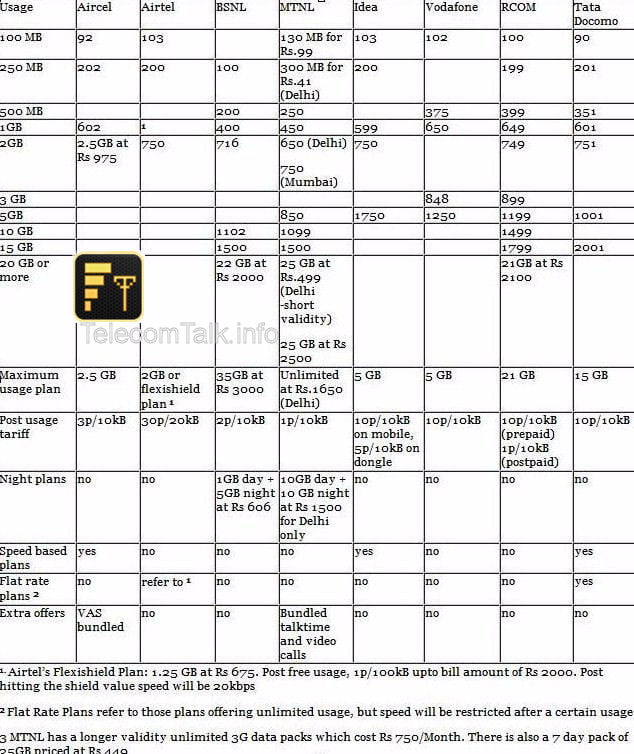 Note: All 3G data plans for mobile or dongle with 30 days validity/monthly rentals are taken under consideration.
From the above comparison chart, it is certain that 3G is not a cheap business like voice calls! Without not a single pan India 3G operator, it is really hard to say which operator is best on basis of tariff, coverage and services because you have 4-5 operators in your circles and you have to choose among them. PSU duo BSNL and MTNL is cheaper than the private operators. MTNL is still offering unlimited plans  with 30/60/90/180 days, which eventually offering unlimited 3G data for Rs 750/month. MTNL also has a 7 day pack for high downloaders offering 25GB for Rs 499.
But what actually I am talking about is Pocket Friendly Billing. As you can see you opt for 1 GB pack at Rs 650 and after 1 GB your operator will charge you 10p/10kB or more i.e. Per 100 MB you have to pay Rs 1000! At the same time if the user opt for 2GB pack it would be more economical as 2GB data pack comes at Rs 750 - just Rs 100 more!
So it has to be like this - Whenever a user uses more than 50MB post the free usage, his billing will be as per next higher billing level i.e. after the user consumes 1GB+50MB his billing will be as per 2GB data plan. And I think it should be exclusively for postpaid users.
There are many subscribers who don't care to check their bills or prepaid account regularly and at the end of month they are on Bill Shock! Airtel's Flexishield Plan is a nice initiative with a bill cap. But I think flat rate plans should be introduced on 3G arena as they are existing on EVDO market widely.
Suggestions for User Friendly Billing:
Have dedicated USSD and SMS code to check data balance and after each data session a SMS is to be sent to the users quoting his last usage along with remaining usage.

When the user has 10% of his free usage remaining, alert him via SMS or email.

Postpaid users must have a choice to bill limit – Rs 2000 to Rs 10,000 or users can set an alert when the billing goes beyond a certain value.

Introduce Flat Rate concept on 3G. It is widely accepted on EVDO networks. Speed will be restricted once you cross the certain usage limit for the rest of the month. But I don't like speed restriction at 10-20kilobit/s ! Make it as per 2G - 128kbps is fair enough.

Whenever a user uses more than 50MB post the free usage, his billing will be as per next higher billing level.
3G is now at its initial stage, and operators invested huge - so don't expect anything affordable and pocket friendly in anytime before 6 months. But it is also true with such costly packs - there are few takers, and network is mostly unused. In this way nor the subscribers neither the operator can make good deal.
On 2G call rates dropped massively when new players entered in the market in 2008. So wait for the next wave, but it as expected will not come in the form of 3G, rather 4G. Main attraction of 3G is high speed wireless internet - it is fast, so fast never experienced by Indian users even on wired broadband.
Remember Reliance Infotel is coming in Q1 of 2012. With LTE and Mukhesh Ambani's ability to see future & customer friendly plans Infotel can kill 3G on the data segment.
What will the fate of 3G? Only for video callings and other video based VAS? What do you think?