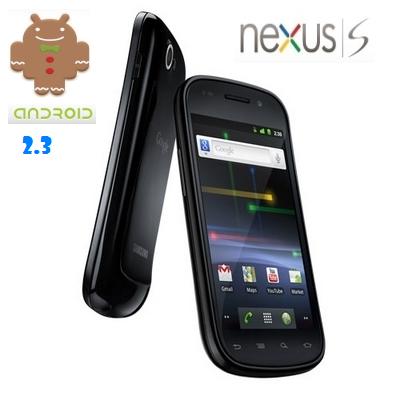 Google, the company behind Android mobile OS has announced latest version of OS, Android 2.3 a.k.a Gingerbread and also shows off the first phone to ship with the new version of the operating system.
The Nexus S (Check Nexus S homepage , twitter) is co-developed with Samsung to deliver most 'pure Google experience'. It should be remembered that Google Nexus S is the successor of Nexus One (HTC Passion) which was released on Jan 5 earlier this year.
The Nexus S is coming with most advanced hardware, sporting a 4-inch Super AMOLED display (235 ppi, Capacitive touch sensor and Anti-fingerprint display coating).
The display is also curved (what Google and Samsung is calling a "Contour Display) to fit comfortably next to your face. The Nexus S is powered by a 1GHz Cortex A8 processor (Hummingbird) and comes with 16GB of on-board flash memory. It has a 5-megapixel auto focus camera with flash as well as a front-facing VGA camera for video calls.
Other fine adjustments of Nexus S are HSDPA upto 7.2Mbps, HSUPA upto 5.76Mbps, Wifi, WiFi hotspot upto 6 devices, Bluetooh 2.1+ EDR, GPS, 3.5mm headset jack and microUSB along with complete and latest Android support. Interestingly Nexus S will support NFC (near field communication).
From December 16, unlocked and carrier-independent Nexus S will be available in Best Buy stores in the U.S. and after December 20 at Carphone Warehouse stores in the UK. Best Buy announced Nexus S will be priced $529 without contract and $199 on 2 year contract with T-Mobile.
Announcing Gingerbread and Nexus S Google Blog says:
Nexus S is the lead device for the Gingerbread/Android 2.3 release; it's the first Android device to ship with the new version of the Android platform. We co-developed this product with Samsung—ensuring tight integration of hardware and software to highlight the latest advancements of the Android platform. As part of the Nexus brand, Nexus S delivers what we call a "pure Google" experience: unlocked, unfiltered access to the best Google mobile services and the latest and greatest Android releases and updates.
Here's a glimpse of the "magic" of Google on Nexus S: