Considering the photo sharing trends of people, Facebook has introduced a new sharing app 'Moments', a standalone application. The app allows users to share the pictures from an event with specific people.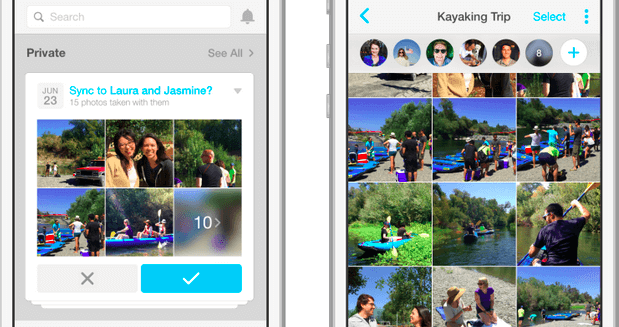 The application categorizes photographs in the user's album using dates and facial recognition technology, making it easier for the people to share or sync the photographs with specific contacts. Privacy setting is offered, hence the user can decide if to make it available to public through timeline or Instagram. There is provision to make it into a music video as well.
Syncing photos with the Moments app is a private way to give photos to friends and get the photos you didn't take. Moments groups the photos on your phone based on when they were taken and, using facial recognition technology, which friends are in them. You can then privately sync those photos quickly and easily with specific friends, and they can choose to sync their photos with you as well. Now, you and your friends have all the photos you took together.
Moments also keeps all of your synced photos organized and even lets you search them to find the ones that you or specific friends are in.
Moments uses facial recognition technology to group your photos based on the friends who are in them
The app is free for both iOS and Android users.