The Indian mobile subscriber base has touched 817.42 million at the end of February 2017 with operators adding just 2.27 million new subscribers in February 2017, says the data released by Cellular Operators Association of India (COAI). While India has already seen a huge downfall in the subscriber base in January 2017, the numbers of February are even worst with operators adding a mere 2.27 million when compared to January's 5.15 million. Also, do make a note that COAI excluded the subscribers under Reliance Jio.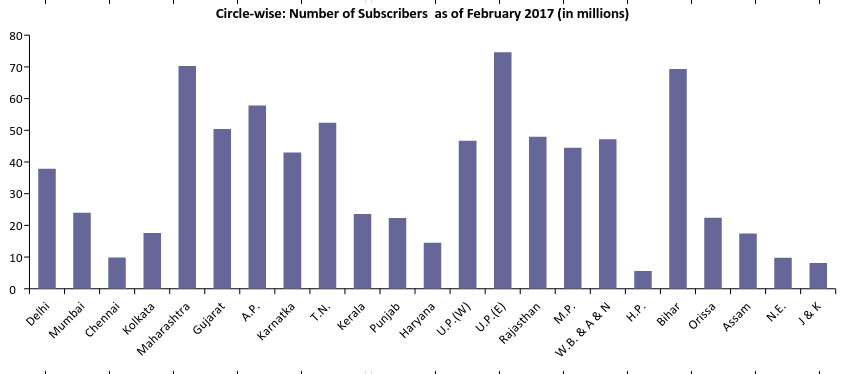 Continuing the lead in Indian telecom sector, Bharti Airtel reached 270.65 million by the end of February, adding just 1.25 million new users. Airtel is closely followed by Vodafone with 207.23 million subscribers and Idea Cellular with 193.27 million subscribers. With 33.11% Bharti Airtel continues to own the maximum market share in the industry.
Amongst the well-known telecom operators in the country, Aircel added the least number of subscribers of 13,309 and holds 11 percent of market share with 91,053,614 consumers overall. Bharti Airtel's Telenor continues to lose customers at a rapid pace as the company now stands with 51,628,868 consumers losing nearly five percent of users in the last two months.
The report, which also assesses the growth of mobile subscribers across various circles in India, said UP East added the maximum number of subscribers (74.61 million) in February. Maharashtra came second with 70.32 million mobile subscribers, with Bihar coming a close third with 69.31 million subscribers. On the other hand, Punjab leads in the number of new additions with 0.58 million new subscribers in the month.
Talking about the growth in the subscriber base, Rajan S Mathews, Director General, COAI, said, "The telecommunication industry has again posted a healthy growth for the month of February 2017. The increase in the subscriptions indicates that consumer base is expanding and reaching new horizons in the country. We are an enabler of inclusive growth. The industry has also ensured that government's plans reach even the farthest corners of the country and everyone is equally benefitted.
Ever since the entrance of Reliance Jio, other operators growth is significantly dropped as the user continues to draw consumers. Recently, Jio also reported that they had surpassed the 100 million subscriber mark in just 170 days from its inception.