Two weeks back we had initiated a survey to gauge customer sentiments about BSNL, India's national ISP and Mobile services provider. We received a total of 1411 responses to the survey. We must add that we had expected a much larger number but are certainly happy about the fact that the responses were fairly distributed. To give you a picture, responses came in from customers of every BSNL Circle including the Andaman and Nicobar islands, North Eastern states, Jammu and Kashmir to name a few. The largest number of responses came in from Kerala followed by Tamil Nadu.
Demographics

About the Respondents
Over 32% of the customers have been with BSNL for over ten years now.
Over 60% of the responses came from BSNL Mobile customers, that includes 3G and EVDO data card users
We were glad to see responses from people of age group > 50 years. Significant portion of responses came from people under the age group of 20-30 years.
Under landline / broadband 37% of respondents stated that BSNL was the only service provider in their area. Only 4% said the same in case of Mobile Telephony.
22% of the respondents have at least two BSNL Mobile (includes 3G, EVDO) connections.
Downtime Stats
There are a good number of landline / broadband customers, even in cities / towns who face more than 10 downtime per month. This is certainly a matter of concern as we have started expecting 24 hour up time for both power and internet.

Primary Usage
A vast majority of users use their landline connection for both internet and calls. This number is only expected to rise with BSNL's night unlimited calling.

In case of Mobile consumers, data usage is significant everywhere - in metros, cities and villages.

Spending
Majority of landline consumers spend between Rs. 500 - Rs. 1000 every month and mobile consumers spend less than Rs. 500 per month. According to us the larger spending on landline segment is due to the fact that reasonably good plans are present in that price band. On the other hand mobile consumers would be generally consuming lesser amount of data, to the tune of 1 - 3 GB per month bringing the monthly spend to lesser than Rs. 500.
Landline

Mobile

Operator switch Sentiment
The numbers are positive for BSNL but trends can certainly change once other operators start matching BSNL in terms of area covered, particularly for wired internet.
Landline Segment

Mobile Segment
Internet Speeds
31% of wired internet subscribers claim that they do not get promised internet speeds. It is alarming to see that the problem exists even in cities. Writing from my personal experience, back at my home (covered by rural exchange) I get speeds of around 0.8 Mbps in place of 2 Mbps.
More than 50% of the customers cite poor internet speeds under mobile services.

Competitive Pricing
Customers believe that BSNL's pricing is competitive. This is one of the prime reasons why people still love BSNL despite of several shortcomings.
Landline / Broadband
 Mobile
Should BSNL be privatized?
Interestingly the answer was close to 50:50 for this question under both Landline and Mobile category!

Customer Care
Customer care was rated 'Poor' under all the headings both for landline and mobile.
Landline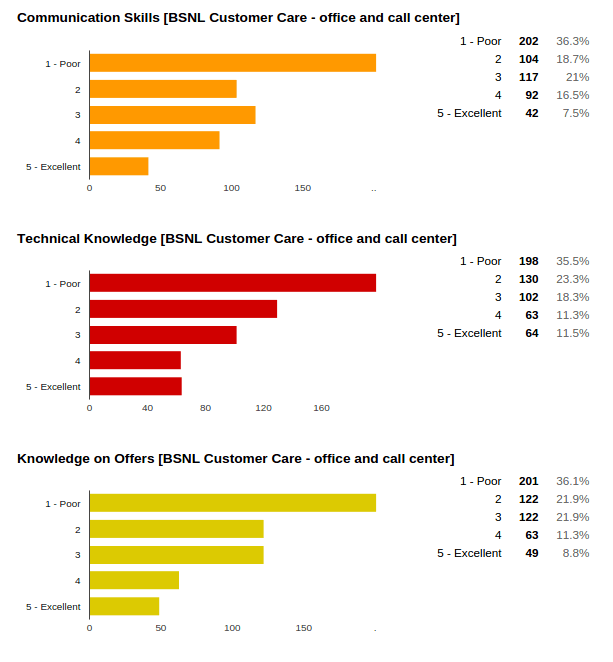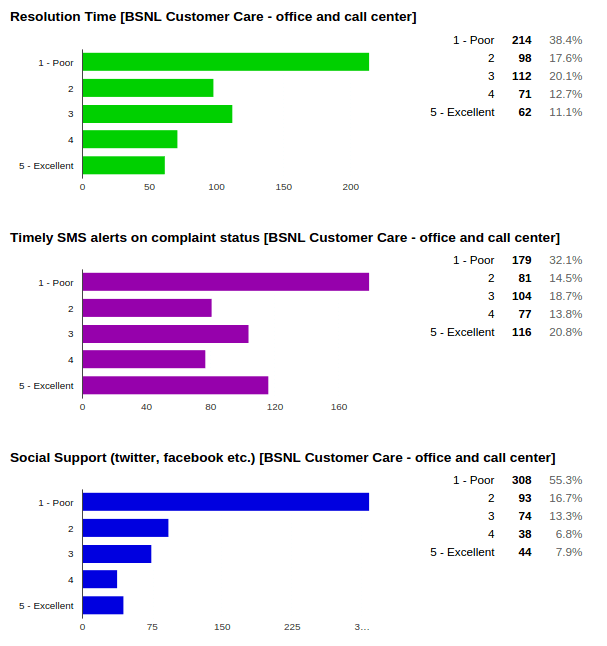 Mobile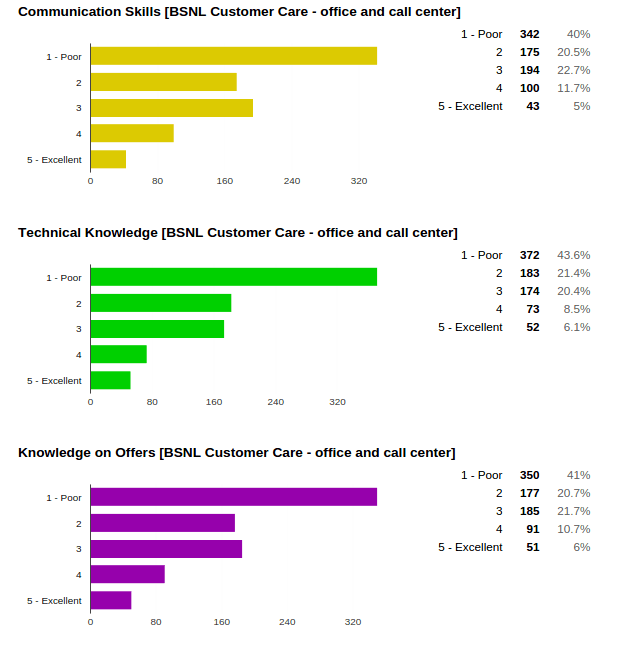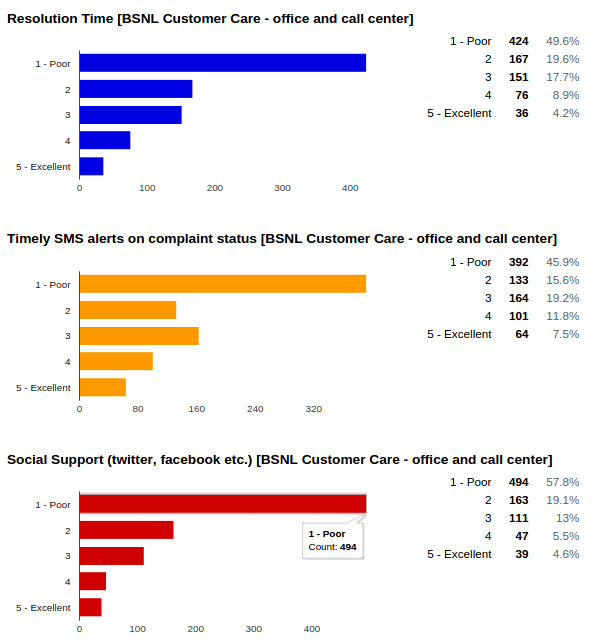 Conclusions
While the customer care has certainly improved in some circles, executives are hardly empowered. We had even written about how customers are being misled by the executives. The social media support via channels like facebook and twitter is non-existent. Barring a few circles like Karnataka and Kerala the social handles are not active at all.
With BSNL enjoying monopoly, especially for landline / broadband in large portions of the country, they must concentrate on improving their services. Even this day, BSNL's broadband services are not up to the mark both in terms of up time and speeds.

Frequent downtime must be eliminated, particularly during rainy season. For homes covered by rural exchanges, the staff just switch off broadband during night times to protect their equipment from lightning strike during rainy season.
BSNL is not in a position to replace badly damaged wires, they just claim no stocks - linemen just express their helplessness and go away. This is something which several TelecomTALK readers also complain about from time to time.

BSNL's mobile signal strength is deteriorating day by day. My friends and relatives in Karnataka and Kerala who were enjoying full signal strength till some months back are barely reachable these days. Signal strength has reduced from 4-5 bars to one bar. Many were talking about switching to Idea or Airtel who are much better. This is the case in rural and even semi-urban areas.
Growing importance of data - from the primary usage stats presented above it is evident that consumers are looking for more and more data. This must prompt BSNL to strengthen the data network and also introduce attractive data packs.

Quality of service in terms of speed and up time is becoming more and more important.
We thank everyone for participating in this survey and helping us in deriving insights into how BSNL could improve their services. In the coming days we intend to initiate more such surveys. Your suggestions are welcome.