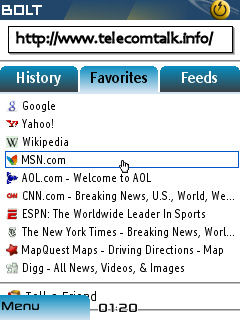 Bitstream Inc today announced that BOLT, the company's web browser for mobile phones of all types, has served more than 100 million page views for its users all around the world in the six months since its public debut.
Launched last February, BOLT continues to enjoy a solid adoption growth rate that exceeds 50 percent per month.   Since February, the average usage rate of BOLT has tripled with the company's servers reporting more than 1.4 million pages rendered daily.
There is no argument that the Internet is an essential part of peoples' daily lives,said Anna Chagnon, Bitstream's president and CEO.
Optimized to conserve data transmissions, BOLT features unrivaled speed consistently at least 25 to 50 percent faster than competitors.
BOLT offers ultra-fast viewing of streaming and flash video, high standards compliance, rich media and graphics enabling people to view websites just as they do on a PC.  Recent data also includes usage from the new BOLT liteTM, a new lightweight version of the BOLT mobile browser.
Recognizing that some mobile phones currently in use cannot support robust applications and some network providers limit the size of application downloads, Bitstream created BOLT lite  a smaller application that includes all the essential features of the BOLT mobile browser but excludes some of the advanced features to maintain a small application size that can work on lower-end phones and virtually every mobile network. BOLT lite retains BOLT's feature-rich functionality, best-of-breed download speeds and desktop PC-style page layout.
BOLT  and BOLT lite are now available for free to anyone as part of its public beta test.  Visit http://boltbrowser.com.