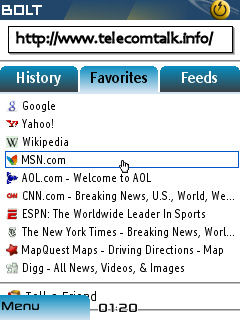 Bitstream Inc announced the much anticipated update to BOLT BETA 3,which will be available for public download from Monday night.Complementing improvements to existing features in the even faster Beta3 release of BOLT are the ability to copy and paste text from web pages, enhanced font rendering, inline entry of text into online forms and support for languages using Cyrillic alphabets Upload files such as videos to YouTube or pictures to Photobucket Toggle between viewing websites with or without images displayed.
BOLT Beta3 also includes many enhancements based on feedback from beta users, including Rendering bold, italics, superscript and other rich text styles, Enhanced rendering of complex web pages, Faster page rendering, Servers upgraded to WebKit 4 for faster surfing.
BOLT and BOLT lite are available for free to anyone as part of Bitstream's public beta test.  Visit http://boltbrowser.com to download .  People who have already installed a previous version of BOLT on their phones will be prompted to download and install the update when they next start the mobile browser.