Bharti Airtel  today said that it has crossed the 200 million mobile subscriber mark in India, further consolidating its leadership position in the world's second largest mobile market. Airtel is the largest telecom operator in India, both in terms of customers and revenues.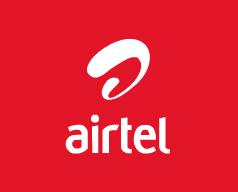 The Company ranks as the fourth largest mobile operator in the world in terms of subscribers.
Journey of  Airtel - KEY MILESTONES :
1994 – Wins GSM licenses for mobile service in Delhi & NCR.
1995 – Launches services under the 'Airtel' brand name.
1997 – Becomes the first mobile service provider in the country to cross 100,000 customer mark.
1998 – Launches India's first private fixed line service in Indore, Madhya Pradesh.
2001 – Network i2i, India's first submarine cable company launched with SingTel.
2002 – Goes public, completes India's first 100% book building issue.
2002 – Becomes India's first private telecommunications service provider to launch International Long Distance services.
2005 – First private service provider in India to have an All-India telecom footprint.
2008 – Crosses 60 million customer mark. Launches DTH services.
2009 – Crosses the magical 100 million customer mark.
2009 – Expands operation to Sri Lanka.
2010 – Expands operations to Bangladesh.
2010 - Announces acquisition of Zain telecom.
2011 – Launches 3G services and 'airtel money' in India.
2012- Becomes the first Indian telco to launch 4G services.
2014- Becomes the first Indian telco to offer 4G service on mobile phones.
Gopal Vittal, Joint MD& CEO (India), Bharti Airtel said, "We are delighted to have reached this major milestone. It is gratifying to see the trust our customers have reposed in our brand and it will be our endeavor to continue delighting them with innovative and world-class services. We will also continue to invest towards building a robust data network of the future and be at the forefront of India's mobile broadband revolution."
Airtel has the largest bouquet of mobile services for customers in India, including 2G, 3G, 4G, Mobile Commerce and other Value Added Services. Its distribution channel is spread across 1.5 Mn outlets, with network presence in 5,121 census and 460,655 non-census towns and villages in India covering approximately 86.7% of the country's population. Airtel has the largest rural mobile customer base in India with over 88 million mobile customers (from rural markets).
Airtel has India's widest 3G footprint, offering customers high-speed internet access and a host of innovative services like Mobile TV, video calls, live-streaming videos and gaming. Airtel is the only mobile operator in India to offer 4G services using TD-LTE technology, providing customers the fastest wireless services with buffer-less HD video streaming and multi-tasking capabilities.
Airtel launched its mobile operations in India in 1995. Since then it has been at the forefront of India's mobile revolution that has empowered millions across the length and breadth of the country. Airtel crossed the 100 million mobile customers mark in India in 2009.