It is a well-known fact that phones have become an integral part of Humans lifestyle be it the corporates in Metros or a farmer in the rural areas. The rural penetration is a quintessential factor as a major chunk of India's population resides in rural areas.
According to TRAI report for the month of July 2014 the total number of GSM Subscribers base in rural India stands at a whopping 371.10million. The Subscribers base grew 0.37million in the previous month which literally translates into a 0.12% monthly growth. The Wireline subscribers in the rural areas accounts for a small fraction at 5.81million.
If a breakdown of the Subscribers share is made operator wise than the private operators account for 339.31million whereas the Public Operators (BSNL) stand at 38.42 million.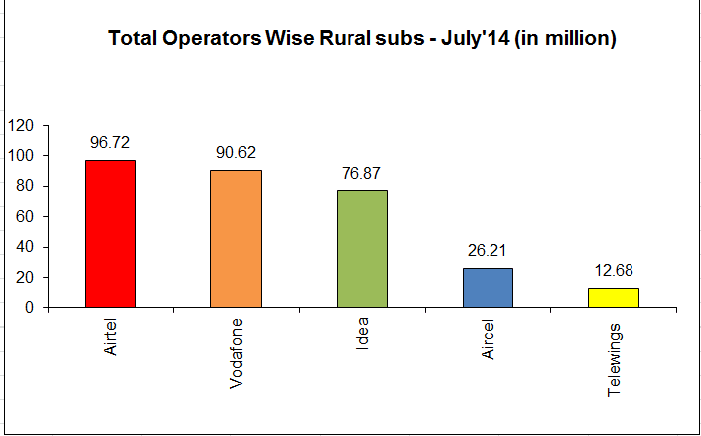 The Chart clearly depicts that Airtel scores the highest number of Rural subscribers at 96.72 Million trailed closely by Vodafone at 90.62 Million and Idea at 76.87 Million. Aircel surprisingly still has a considerable chunk of rural users at 26.21 Million. The least number of subscribers is scored by Uninor (Telewings Communication) at 12.68 Million.
Rural Penetration is an extremely important aspect of the telecom Industry. The decrease in the Smartphone prices is also leading to an increased volume of Mobile data Consumption in the rural areas and the Mobile Data is definitely going to become the next big thing for the Telecos.