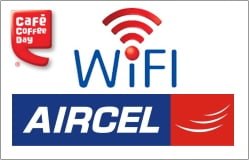 Aircel, country's leading telecommunication company with pan India GSM operation, 3G offerings and future-dated BWA operations has introduced WiFi services in Kolkata in collaboration with Cafe Coffee Day.
All Aircel users can enjoy free wireless Internet at a blazing-fast speed and an enhanced user experience at all Aircel Wi-Fi Zones, before 31st Mar 2011.
Aircel Wifi Zones are powered by Spectranet's Internet backbone. For more details about the services check out our earlier post AIRCEL Wifi.
List of Cafe Coffee Day (CCD) in Kolkata offering Aircel Wifi:
CAFE COFFEE DAY,Millenium Towers, Millenium City, IBM Building, DN - 62, Sec -4, Kolkata-700091

CAFE COFFEE DAY,INFINITY SEC 5 SALTLAKE, Kolkata-700091

CAFE COFFEE DAY,RDB ADLABS BLOCK K1 Sector-5, Kolkata-700091

CAFE COFFEE DAY,TECHNOPOLISH , BP -4, Sec -5, Saltlake, Kolkata-700091

CAFE COFFEE DAY,Roudan Street, 42/A, Express Tower, Sarojni naidu Sarani, Kolkata-700017

CAFE COFFEE DAY,Dalhousie - 6 K S roy road, Kolkata-700001

CAFE COFFEE DAY,23-NNR AVENUE, BLOCK-B, NEW ALIPORE, Kolkata-700053

CAFE COFFEE DAY,P-86, LAKE ROAD, Kolkata-700029

CAFE COFFEE DAY,12/2, HUNGER FORD STREET, GROUND FLOOR, Kolkata-700017

CAFE COFFEE DAY,59 BALLYGUNJ GARDEN, Kolkata-700019