More than a year after its launch, 3G adoption in India remains subdued at 10-12 million users due to various issues like poor network quality as operators are cash-strapped to spend on 3G expansion, low penetration of 3G enabled handsets, unavailability of local content, absence of a killer application (similar to what SMS was for 2G) etc.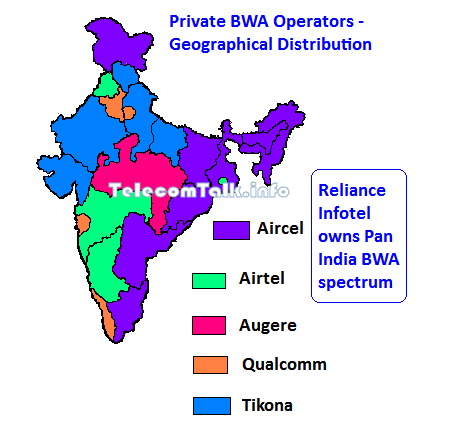 Higher spectrum prices also forced operators to offer 3G services at a premium costing almost 5 times the existing GPRS/EDGE based data plans.That made Indian subscribers turn cautious about 3G resulting into less than 2% penetration despite 10-15% penetration of 3G enabled handsets. One of the other factors that go against 3G is allocation of just 5 MHz of spectrum as against 20 MHz in case of 4G. India has a very high subscriber density per Base Transceiver Station - BTS (more than 2,000 in metros) as compared to other countries. If sizeable proportion of it decides to opt for 3G, with very high data traffic compared to 2G, 3G networks will be congested very soon.
Globally, in most markets, 3G adoption picked up in the third year from the launch and we can expect that operators may improve the quality of 3G service in a year or two. Even assuming that 3G picks up in 2 years from now, most of the 3G users will be predominantly mobile users with a medium data requirement like accessing emails, web-portals etc leaving the space of other portable mobile devices like tablets, laptops, gaming consoles etc requiring high speed broadband for live HD video streaming, gaming etc unoccupied, paving the way for 4G.
Technology Choice – Wi-Max vs LTE
Worldwide, for 4G, Wi-Max is more widely adopted technology than Long Term Evolution (LTE) having a user base almost four times that of the latter but the latter is growing much faster than the former. North America (Verizon and AT&T in US), Japan and China are the major drivers of LTE worldwide. North America accounts for more than 40% of LTE's global set up.
In India, out of the eight entities who bagged 4G licenses, only BSNL and MTNL have opted for Wi-Max platform whereas private players have made their intentions clear to go for LTE. The difference between Wi-Max and LTE is not as stark as GSM and CDMA apart from being promoted by two different associations - Institute of Electrical and Electronics Engineers (IEEE) and 3rd Generation Partnership Project (3GPP) respectively. Wi-Max has capacity to accommodate voice which LTE doesn't allow but LTE allows better integration with 2G and 3G as compared to Wi-Max.
4G Gameplan of Indian Players

Players

4G License Areas

Progress on Roll out

Reliance
Infotel
Pan India - 22 Circles
Proposed roll out in 2012 but delayed couple of times. Have adopted LTE-TDD. Most probably partner with Network 18 for content.
Bharti
Airtel
Kolkata, Karnataka,
Maharashtra, Punjab
Has launched services in Kolkata and Bangalore (Karnataka). Has adopted LTE-TDD. Eying on Qualcomm's Mumbai and Delhi licenses. Partnered with ZTE for Kolkata, Huawei for Karnataka, Ericsson for Punjab and Nokia Siemens for Maharashtra.
Aircel
AP, TN, W. Bengal, Bihar,
Orissa, Assam, N.E., J&K
Intends to start services in 2012. No specific plans disclosed yet.
Qualcomm
Mumbai, Delhi, Kerala,
Haryana
Settled the dispute over licenses in March 2012. No
specific plans disclosed yet.
Augere
Madhya Pradesh
Claims to be the first company to launch 4G in India on LTE-TDD. Has partnered with Ericsson.
Tikona
Gujarat, UP (E), UP (W),
Rajasthan, HP
It already offers fixed broadband to households and
corporate using WiFi technology. 4G roll out is in progress.
BSNL
20 Circles - All India
except Mumbai and Delhi
Intends to surrender its BWA spectrum in some / all the
20 circles.
MTNL
Mumbai and Delhi
No specific plans disclosed yet.
Source: Industry and CARE Research
Ecosystem challenge for 4G– Device support is lacking
Unlike 2G and 3G where spectrum bands were fairly uniform across various countries resulting into mass production of handsets bringing down the handset prices, 4G is offered in different frequency bands in different countries. Around one third of 4G subscribers today, predominantly in the US, served by Verizon and AT&T, are on 700 MHz band whereas Europe uses 2.6 GHz band. China and Japan are using 2.5 GHz and 2.1 GHz respectively. All the private players in India have received 4G spectrum in 2.3 GHz whereas BSNL and MTNL have it in 2.5 GHz. This puts limitations on interoperability of 4G devices across regions with different spectrum band.
It can be seen from the chart below most of the devices, including dongles, routers, smartphones, tablets etc, are available on LTE-FDD that too in 700 MHz band due to adoptability of the same in US market. LTE ecosystem is evolving rapidly with 347 LTE devices by 63 manufacturers available in the market as in April 2012. Availability of LTE devices increased by 76% over a six month period from October 2011 to April 2012.
Global LTE Device Availability

LTE-FDD

LTE-TDD

Spectrum

Number of
Devices

Spectrum

Number of
Devices

700 MHz

142

2300 MHz

36

800 MHz

52

2600 MHz

41

1800 MHz

50

2600 MHz

65

800/1800/2600

43

Source: Global mobile Suppliers Association and CARE Research
4G remains a data only service in India VoIP is yet to arrive
4G, unlike 3G, does not offer Voice-based services through mobile networks but as Voice-over-Internet-Protocol (VoIP). The main difference between normal telephony and internet telephony is that in normal telephony, circuit switching technology is used, whereas Internet Telephony is based on packet switching technology. In the developed markets like US and Sweden where 4G has been rolled out, it is offered as a data only package, integrated with 3G packages for voice. In short, a user who is logged on to a 4G network will be seamlessly transferred to a 3G network the moment he receives a voice call. Voice-over-LTE (VoLTE) is a new form of VoIP and is under trial phase in some of the countries.
In India, not all the 4G service providers have the option to provide seamless 4G and 2G/3G service offering both data and voice services on the same handset as only Bharti, Aircel, BSNL and MTNL among 4G licensees have 2G/3G licenses. This could be possible in future if government accepts TRAI's recommendation to make the spectrum technology neutral allowing the operator to provide 2G, 3G or 4G services using the same spectrum. As there is no clarity whether VoIP will be allowed fully in India, currently 4G services are limited only for data related usage.
Stable growth prospects, lower operating costs support business model
Unlike 2G that has stuck up in linear revenue growth implying additional revenue coming primarily with proportional increase in subscribers as ARPUs are stagnated, 4G has fairly non-linear model with prospects of higher profitability as ARPUs are expected to be a lot better than 2G. Also, the limited competition in the sector, as there are just 3 players in a circle today, will help in holding tariffs unlike 2G. Millions of SMEs in India should potentially offer a stable and high volume market for 4G operators.
Conclusion
When 3G was launched in India more than a year back, the USP was faster internet, video calling, live streaming of videos etc. Now 4G is being launched with a much faster internet without voice and without a developed ecosystem. The next couple of years will see a clash between the two technologies as most of the operators offering these services are different.
Although superficially it looks like these two technologies offering the same user experience with some plus and minus might cannibalize each other, a deeper gaze tells us that the two technologies can co-exist albeit not in separate silos. As seen in the developed markets, 3G will be a more voice and moderate data intensive service which will be a natural transition to existing 2G users whereas 4G will be predominantly data intensive technology replacing other broadband services.
A target group of 30 million postpaid subscribers, who on an average pay more than Rs. 500 a month as their mobile bill, almost 5 times their prepaid peers, 431 million subscribers who have internet ready handset but not all of them are active and around 100-120 million out of these carrying a 3G enabled handsets offer a sizeable target group for 3G services. On the other hand, more than 100 million internet users in the country, 100s of thousands new tablet users being added every year and millions of potential TV viewers waiting for the cheaper video-on-demand facility in their drawing rooms, and 100s of thousands SMEs waiting for the right internet connectivity offer the target group for 4G services. CARE Research therefore feels that in India, in the race of technologies, 4G will be a serious contender.
As a reader whats your take will 4G be a HIT in India or it will be another 3G in making do share your views.