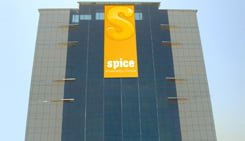 Spice Digital one of the leading VAS players in the country, announced the opening of a larger office premises at Kolkata , augmenting its capacity to service the increasing needs of the telecom market in East India.
This announcement comes shortly after Spice Digital announced a slew of senior level appointments to lead verticals within the organization.
Spice Digital reaches out to over 50 million subscribers daily in its markets within the country and across borders including Bangladesh, Mauritius, Kenya, Indonesia, Jordan, Nepal, Nigeria, Saudi Arabia and Singapore.
Saket Agarwal, CEO, Spice Digital said, "The last few years have seen Spice Digital growing very rapidly and strengthening its stand in the Indian telecom industry. While we have a very strong presence in almost all parts of India, we felt the need to expand our operations in the Eastern part of India to align ourselves better to the market, as most operators now cater to the Eastern and North East states. This should help us to service our customers better and improve engagement levels, thereby strengthening our partnerships with our customers"