Nextra Broadband offer Ultra-High Speed Fibre plans with speeds up to 100 Mbps in Delhi & NCR regions. Unlike other ISPs, Nextra is offering "symmetric" bandwidth, i.e. Download Speed & Upload Speed are same for all broadband plans. Complimentary Wi-Fi service at "NextraWorld" Wi-Fi Zone are available for Nextra broadband subscribers.
Nextra Broadband allows customers to choose their broadband speed on unlimited data plans and offer add on packs ranging from 15GB to 65GB. Choices are available between 10 Mbps, 15 Mbps, 20 Mbps, 50 Mbps and 100 Mbps. The plans starts at Rs 999 for 10 Mbps and all way up to Rs 2999 for 100 Mbps with 30GB FUP. However the post FUP speed is limited to just 512Kbps.
Nextra also offer limited broadband plans starting at Rs 499 to Rs 899 offering download speeds of 10Mbps. Service will be suspended on exceeding download limits and customers will not be charged for extra usage. However, customers can opt for Booster Usage Top-Up after available data is exhausted. Rs 99 will be charged for 3GB, Rs 300 for 5GB and Rs 600 for 35GB data top up.

Long duration subscription discount is available at rate of 15% for 3 months, 20% for 6 months and 30% for 12 months.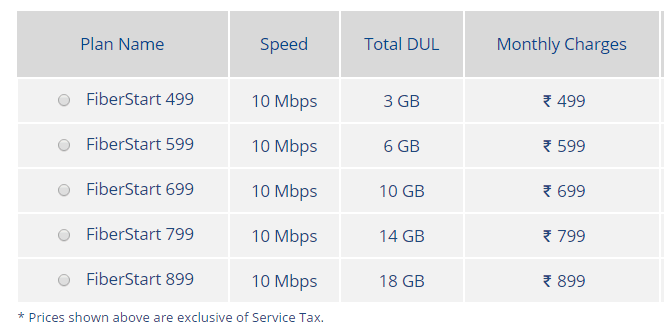 Nextra Broadband do not charge any Installation/ Activation Charges for taking new connection and Nextra recommended Router can be purchased for Rs 1500. Nextra also offer its broadband service for business customer including Dedicated Internet Leased Line, VoIP and Campus Wi-Fi.