Netflix's global launch was announced at its press conference that happened during CES 2016 on the 6th of January. It is now available in almost every countries around the world (except China, Crimea, North Korea, and Syria), including India. In India, the video streaming company is offering its services in three tier pricing; Rs. 499 for SD streaming, Rs. 650 for HD streaming, and Rs. 800 for UHD streaming. I've used Netflix in India, and this is my user experience with the streaming services.
Disregarding all the standards of bandwidth put forward by Netflix, I shall cover the following issues:
Bandwidth constraints
Netflix's network & Latency issues
Content availability
Bandwidth Constraints
An Internet bandwidth of 1Mbps is enough for streaming 480p (640x480 or 720x480 pixels) with 2.1 channel audio without buffering. A speed of 1Mbps means a minimum download speed of 115kB/s and an average speed of 125kB/s. A bandwidth of 2Mbps is good enough for 720p streaming with a minimum download speed of 225KBps or an average download speed of 250KBps. With a speed of 1mbps, it does take while for the video stream to go from 240p to 480p. It streams pretty well after 1 minute or so, and the quality is decent.
If you have a 1080p 42-inch TV with adequate viewing distance, its surprisingly good. To put things into perspective, Tata Sky uses about 1.5Mbps for SD channel and around 5-8Mbps per HD 1080i channel. As many of you would be aware, large-scale, bandwidth-heavy, and latency-sensitive applications or services like internet streaming use CDNs (Content Delivery Networks) servers. There are the two most popular CDN servers in India:
Google (for Google cache and YouTube)
Akamai
Netflix's network & Latency Issues
However, the data which is utilised by Netflix is in the next league, so Netflix uses its own CDN servers (NGINX) which are located in the US based on the open connect platform. You can reach them at 108.175.43.175, with my connection, I get about 250ms to Netflix, which means its within acceptable range for video streaming with almost no buffering. To check your latency you can either do a Ping Test or a TraceRoute.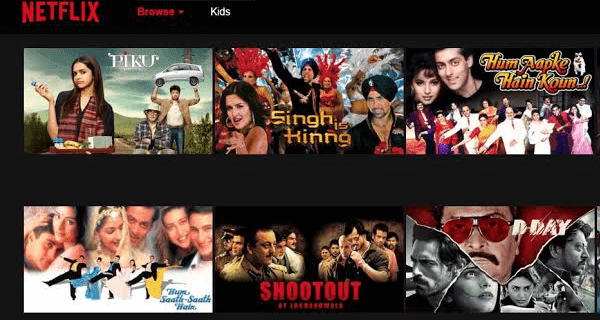 If I had a low-latency connection to Netflix – 25ms or 50ms – and I could stream 720p occasionally after pausing for about a minute. I do that with YouTube because my ISP has YouTube peering. Normally, latency of about 250ms is good enough for streaming videos but not more, higher latency results in delayed transmission of packets which causes buffering, although unstable bandwidth also results in buffering.
Content & Pricing
Lets be honest. With the subscription Netflix has put into place – Rs. 500 per month for SD streaming –, the success of Netflix will depend on the media it is able to offer. Let's try and work out the economics here. The HD and UHD with more screens is priced at Rs. 650 and Rs. 800, respectively. It's a pertinent question we need to consider, with the data caps we have, an average of 50-70GB, can we use HD streaming? Netflix is a data hog, this is an undisputed fact, and it consumes all the bandwidth that is available.
Consider this; you have a speed of 8Mbps till 50GB, and the speed reduces to 512kbps after that limit. 8Mbps bandwidth means a download speed of upto 1MB/s, and that's around 3.6GB/hour. An average TV show is around 45 mins, so that gives you around 2.7GB/episode. If you watch 20 episodes, your consume all the data in the FUP limit. And, of course, those with higher speeds and the same FUP limit would land in a worse boat, because speeds will increase data usage and result in decreased view time.
Not everyone has the time to watch TV, but it will seriously put strain on resources if we were to use Netflix in HD. This should however make a dent in the Internet market. Class A ISPs like Tata, Airtel, MTNL, and BSNL will certainly move towards providing better FUP limits and better FUP speeds. If Netflix becomes a "thing" in India, we may start experiencing the same usage patterns in India as we see in the US. Starting from 8PM till about 2AM, we might see extremely heavy data usage, which may peak more than the ISP is able to handle.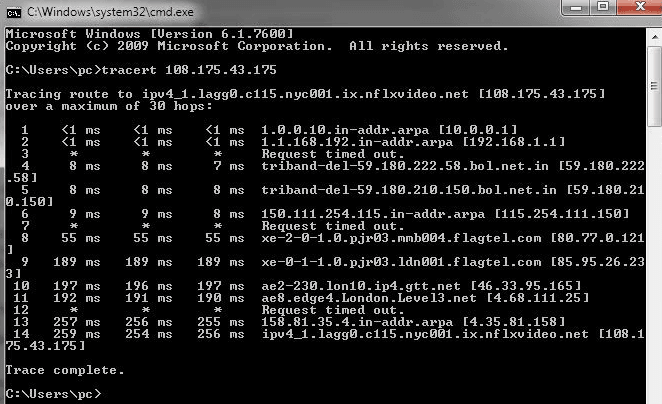 Local ISPS like ACT Fibernet may suddenly find themselves dealing with a lot of traffic surge, especially if they offer plans like 4Mbps or greater with high FUP limits. Before someone says this, a network where some of the users are downloading 24x7 doesn't equal the amount of load Netflix can generate. Why? For the simple reason that not everyone is downloading at the same time, but suppose everyone suddenly decides to come online and starts streaming. It has the potential to generate a massive spike.
We all know that piracy is rampant in India, and we are literally the biggest pirates in the world. It's for good reason as we value our money, and when compared to the rest of the world, we have lower purchase power parity. A game or a movie shouldn't be priced in the same way in India as in the US. But that's a moral debate for another time.
Consider this, a 2TB hard disk disk costs around Rs. 7000 these days, so if you have a 1Mbps unlimited connection, you could download a little over 300GB per month, and it would take you six months to fill this hard disk drive with data. Believe me, 2TB is a lot of storage space, and you have to really try to fill up the space. It also grants you access to really high-quality content if you're a videophile, or greater variety of media you are free.
What about Netflix Originals?
Let's suppose that you register for an annual package of Netflix at Rs. 6000 per year. Netflix won't be able to offer a variety of content due to licensing issues or other reasons, it really wouldn't make much sense in getting a Netflix connection. However, it should be kept in mind that Netflix does provide you with instant, on-demand access to media, and the value of that is far greater today than waiting for 24 hours or a few hours to download for your favourite movie or TV show through torrents.
Netflix has a lot of original content which is produced by their own studio, and it is known for its extremely diverse range of on-demand services. However, many of its original and popular shows are not available in India due to complex licensing issues. Even if you go through the catalogue, it lacks in content, there are very less Indian movies. Even though Netflix provides a huge array of Netflix originals, it wont be enough to sustain. As Netflix puts it, if you "Binge Watch" Netflix, you can get done with all the shows it has on offer in India within in 2-3 months. So it isn't worth subscribing for Netflix right now. Maybe after it starts providing enough content, both foreign and India.
The next four months are going to probably be considered as the golden period in the final phase of telecom revolution in India. With the launch of Reliance Jio, better FUP speeds, a probable merger of MTNL & BSNL, and the sudden surge in data usage patterns across users will definitely lead to an overall reduction in pricing, and we may start experiencing some significant increase in overall international bandwidth, which will drive prices down.