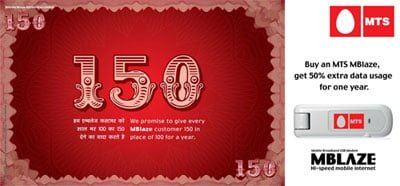 Voice tariff war is almost stabilized, and now data market is on the way of cut-throat competition. MTS India, the CDMA services from Sistema-Shyam which always expressed their intention to grow based upon data market, now offers more value for money.
Interestingly,  just some hours before, we reported Reliance slashed Netconnect+ Prepaid plans.MTS now offers 50% Extra Usage for 1 year if new customers recharge with FRC1002.
New customers opting this FRC will get the MBlaze modem and the FRC at an attractive total of Rs 1999. With first time payment of Rs 1999 the user will also get 5 GB usage for 30 days and 50% extra usage on popular recharges.
MTS also brings some new STVs for its prepaid MBlaze users. Most attractive STV is Weekend Pack, which comes with 10 GB usage in weekend only. The pack is valid for 30 days, and user can enjoy the 10GB data in any weekend ( Friday 10PM to Monday 7AM ) during this 30 days.
Other MTS Mblaze monthly STVs include Mblazer night(10pm-7am)  (Rs 595 ,10 GB Night) , Unlimited MBlazer Rs 999 (12GB at highspeed, and then as per slow 1x network), MBlazer 494 (0.5GB at day and 1.5GB at night ).
Details of  50% Extra Usage Offer:
MTS MBlaze New Prepaid Plan

Total cost

Rs 1999

FRC (included in Rs 1999)

Rs 1002

Bundled Usage

5 GB

Valid for

30 days

Extra usage

50p/MB

Extra Benefit

50 % Extra usage on selected data recharges* for 1 year
MBlazers [50% more STVs]*

What you get if you recharge with current MBlaze STV

Usage

Validity

Extra usage

496

STV 498 offers 750 MB

1 GB

30 days

50p/MB

597

STV 598 offers 1 GB

1.5GB

30 days

702

STV 698 offers 2 GB

3 GB

30 days

796

STV 798 offers 3 GB

4.5 GB

30 days

899

STV 898 offers 6 GB

9GB

30 days
Terms and Conditions of 50% Extra Usage Offer:
50% Extra Usage Offer is applicable across channels- retail / BR / IT / Modern trade

50% Extra Usage Offer will be available in market till 31st May 2011.

50% Extra Usage Offer available is applicable only FRC @ Rs 1002 – Offer cannot be bundled with any other offer in the market

50% Extra Usage is available on popular recharges STVs 496, 597, 702, 796 & 899 and are valid only with FRC 1002

All existing retail MBlaze STVs & Top ups (other than above mentioned STVs) will be applicable on FRC 1002 till lifetime

50% extra usage benefit on popular STVs(STVs 496, 597, 702, 796 & 899) are valid till 31st May 2012

50% Extra Usage Offer is valid for new MTS MBlaze customers only.
MTS also introduced Make Your Own Plan Portal - www.mtsindia.in/ownyourproduct/where one can choose plans as per their needs.