Sistema Shyam TeleServices owned telecom operator MTS announced its unaudited Consolidated financial results for Quarter 2 of this year. The Consolidated Revenues depicted a Q-o-Q increase of 5% bringing the tally to INR 3,348 million. This growth in revenue is primarily due to increase in volume of Data consumption.
The ARPU (Average Revenue Per User) increased by 7.7% to INR 115 and even this increase is due to the Mobile data growth. The Non Voice revenue grew by 14% this quarter and the Companies subscribers' base also took an uphill route and increased by 8.5% translating into 1.4milion Subscribers.
Dmitry Shukov, CEO of Sistema Shyam Teleservices said "During the quarter our consolidated revenues grew by 5% Q-o-Q, driven by growth in non-voice revenues. These results are a testament of the market acceptance of our world class 3G plus network. Going forward, we expect strong momentum to continue, especially in our data business."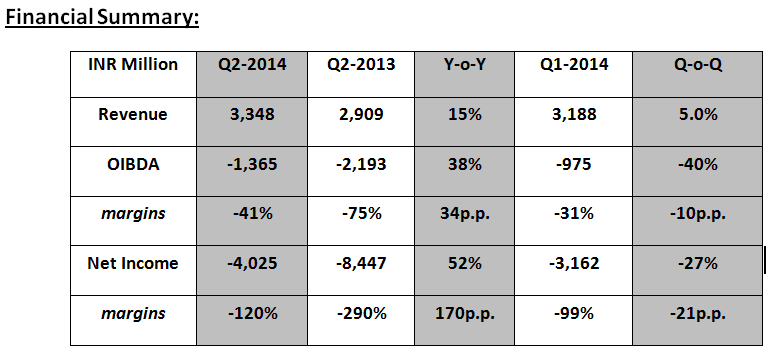 The table above shows that MTS had reported an OBIDA loss of INR1,365 million for Q2 2014 which translates into a reduction of loss by 38% if we consider the Y-o-Y(Year on Year) timeframe. This result helps us deduce that the main driving force in telecom industry will be the growth in the Mobile revenue sector.