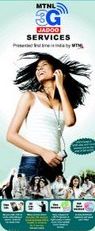 MTNL Mumbai is all set to launch 3G Mobile Internet services for the first time in  India and the commercial launch of 3G service in Mumbai is said to happen on June 30 a 3G network allows faster data services over 3G WCDMA Mobile network.
MTNL will first introduce the 3G Mobile Internet Service in the market which will offer speeds up to 3.6Mbps Mahanagar Telephone Nigam Ltd  wants to use its upgraded network to offer data services first to its subscribers, J Gopal, executive director, Mumbai circle, MTNL cited.
The service was officially launched in Mumbai in May, but could not take off immediately due to upgradation of the firm's existing network from 2G to 3G.
MTNL's voice services on 3G would be commercialy launched on July 15, Gopal added We are being assisted by Motorola in the network upgrade. The delay in deployment of some of the related equipment has resulted in the launch of the commercial services," Gopal said in an MTNL function.
In this mode, the MTNL expects about one lakh subscribers in Mumbai in the first year of operation telecom observers said that 3G providers, especially new licence owners, would use 3G spectrum to offer enriched voice calls and voice based services since value added services (VAS) provision would make them incur huge expenses. Currently, VAS contributes 9% on an average to telecom operators' revenues.