Have you ever been in a situation where you wished that you had a Wi-Fi hotspot to connect to the Internet to?
If you wanted to get some surfing done while out and about you would be limited to hotspots at restaurants or cafes; or you'd have to get a dongle and plug it into your laptop – not really a feasible option for someone who needs to whip out his computer get connected right away.
Now, TATA Indicom enters the Wi-Fi pocket router with its latest offering under TATA Photon's umbrella, "Pocket Wi-Fi router". This TATA Photon Wi-Fi router is equipped with a built-in CDMA chip which also has RJ45 LAN port, a mini USB port for charging and also a power button at the top. Photon Wi-Fi is a light weight, great looking router that's smaller than most mobile phones
The TATA Photon Wi-Fi can support sharing internet with up to 5 users/devices simultaneously on the go which Speeds Up to 3.1 Mbps (Downlink) and 1.8 Mbps (Uplink) distributed across connected users. Again as you know, speeds of individual users will depend on the applications being accessed by them and not to forget with the network availability too. The Router has a slim and compact design unlike many other bulky Wi-Fi devices that are currently available in the market. This makes it extremely convenient to carry in a pocket!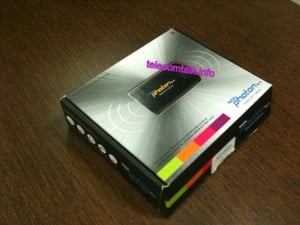 What's inside the box…
The contents of the box that come with the Pocket Wi-Fi are a pretty standard affair. The box pack just contains the router itself, but it would have been a better package if it also included a padded carrying case.
You also get a two-pin USB power adapter and, curiously, a mini-USB cable with a minor gripe is the two-pin USB power adapter. We'd prefer it to be a three-pin adapter instead. D-Link is pretty confident that the device is very easy to setup so there's no full-on manual per se, just a quick start guide and warranty booklet, that's pretty much what you get with SER 8189 (TATA Photon Pocket Wi-Fi Router).
A closer look at the SER 8189…
Size-wise the SER-8189 is very pocketable. As you can see by the picture, it's just even smaller than a slim handset but thinner than an i-phone. On one side of the device, you get a mini-USB port that serves both as a data transfer port and a power/charge port. On the other side, there's a rocker switch that toggles the router between two modes – router and modem – more about the modes in the next section.
We really liked its glossy form factor look but this will not last for long if you put this masterpiece along keys and other gadgets unprotected. The gloss finish will definitely get scratched over the time. We hardly used it for a week and we managed to get one, two, three, four and n number of scratches.
How does the SER 8189 perform…
We're very happy with how the performance of the ser 8189. For such a small device it packs quite a punch with features very much like a full-sized router. All the standard router functions are accounted for: VPN pass-through, port forwarding, UPnP, MAC filter and all the latest security encryption standards are all there.
Configuration was a cake walk as its very hyper easy to configure this. This is something which will make you forget the complex configurations which you used to make for a full sized router.For the first time use, all we did was slot in a SIM card and switched it on. The SER-889 did the rest and we were surfing in no time.
The SER-8189 even has some functions not seen on a full-sized router. With a card installed, the device is affectively a wireless thumb drive of sorts. You can share files over-the-air effortlessly. The SER 889 has two modes: modem and router.
In modem mode, the SER-889 is very much like a standard dongle where you plug it in and connect to the Internet for single user use. In router mode, the DIR-457 functions as a router where you can share you Internet connection with up to five devices.
The battery life of the router is really a thing which has worked upon. It's equipped with a huge 1,350mAh battery that would seem more than adequate but sadly it doesn't lasted no more than 2.5 hours of usage when we actually tested this little champ. That's even less than a mobile phone. If you're indoors though, you can leave it connected to a wall socket via the packaged charger.
At the end of the day…
Bottom line is we were impressed with what the SER-889 brings to the table. At SER-889 some may find justifying such a purchase difficult but having used the device we don't see the point going back to fiddling with USB dongles.
Even if you're primarily the only person using the connection, the flexibility that device offers really justifies its existence. It's just that this is  much better.
At this moment it's available for a special price of Rs. 4,999, which we felt was just too much for this masterpiece but you have to pay extra for extra things it provides you and yes, you will have to choose a plan of course, which are available at http://www.tataphoton.com/tata-photon-wi-fi-tariff-plans.aspx