Hong Kong-based G'Five International, the world's ninth-largest mobile phone maker by sales, today launched 21 of its aesthetic, feature-packed, high quality and dual SIM Mobile Phone models and announced its ambitious plans for the Indian market.
The company also said that it will launch its portfolio of 3G handsets and smartphones in next 2 months to strengthen its presence in India.
G'FIVE Mobile recently created quite a stir when it emerged as the second largest mobile phone brand in India – a true recognition of the large volumes it has been selling incessantly for quite some time now (as per the IDC's India Quarterly Mobile Handsets Tracker, 3Q 2010).The IDC report ranked G'Five--which started its India operations only in June 2009, as the second-largest mobile phone seller in India, behind Nokia and ahead of Samsung.
The Mobile Phone maker today launched some of the innovative products in the market include Mobile with a Projector system, free-to-air TV, marathon battery for really long talk time and standby time (up to 2200 mAh), steel body, super-slim design etc.
The new range of mobile phones announced by G'FIVE today are loaded with top-of-the-line features like IPTV, push mail, triple SIM (GSM + GSM + CDMA), dual LED torch, expandable memory up to 16 GB, dual memory card slot, voice changer, motion sensor / song changer, flip models with Qwerty keypad, PC camera, drawing board, piano, navigation wheel, butterfly lights etc.
For the music aficionados who love high decibel volumes on the go, G'FIVE mobile phones have external sound box, dual embedded speakers, universal audio jack (3.5mm), and Yamaha chipset for amplification
The Smartphones and expensive handsets may be all the rage in urban India, but G'Five International Ltd.'s strategy of selling low-priced sets is giving it vital market share--so much so that the company is now planning to set up a manufacturing center in India and open 500 retail stores.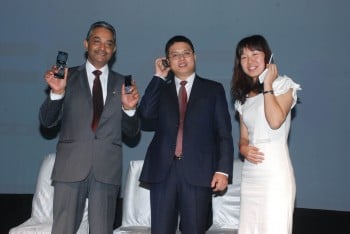 Speaking on the launch of new phones, Mr. Arshit Pathak, from G'FIVE said, "We strongly believe that the benefit of the technology should not be limited to a few but must be available to the masses. Our business philosophy is to make technology affordable to the common people. We not only are offering compelling products at a most competitive price but we have also set up widest after sales service network in the country. We have over 500 fully operational after sales service centers across the country and we do offer a warranty of 500 days against the industry standard of 365 days.

Mr Jaideep Chopra, Vice President- G'FIVE sated "We found the market which other brands had left out, We went to the people who weren't able to buy high-priced mobile phones," The G'Five has been wooing Indian consumers by focusing on smaller cities and towns, with handsets priced between Rs.1500 and Rs.5000.