LTE has become a dominant technology in 2017, and the number of LTE connections is increasing. And several countries have already started deploying the 5G infrastructure, and the 5G era might begin by the end of 2018. Ericsson has released its Mobility Report November 2017 edition, in which the credible source has highlighted how the telecommunications sector is going to turn out in the next few years and it also revealed the current numbers.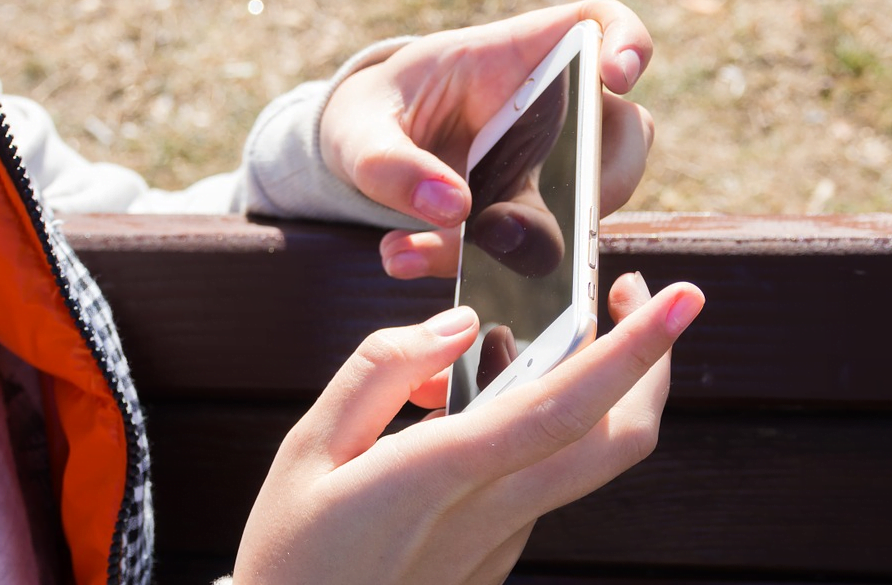 Here are the 5 key takeaways from the Ericsson Mobility Report November 2017.
There are 5 Billion Mobile Broadband Subscriptions
Ericsson said that the number of mobile subscriptions is growing at almost 6% year-on-year, reaching 7.8 billion in Q3. China had the most net additions during the quarter (+30 million), followed by Indonesia (+7 million), the US (+4 million), Angola (+4 million) and Pakistan (+3 million).
The number of mobile broadband subscriptions1 is growing at around 20 percent year-on-year, increasing by 210 million in Q3 2017 alone. The total number of mobile subscriptions is now 5 billion.
During Q3 2017, 170 million LTE subscriptions were added to reach a total of 2.5 billion. The net additions for WCDMA/HSPA were around 60 million subscriptions during the quarter. The majority of 3G/4G subscriptions can use GSM/EDGE as a fallback.
LTE Becomes the Dominant Mobile Technology in 2017
LTE is anticipated to become the dominant mobile access technology by the end of 2017 and is estimated to reach 5.5 billion subscriptions by the end of 2023.
At that point, LTE subscriptions will account for more than 60% of all mobile subscriptions. In developing markets, GSM/EDGE-only will still account for a significant share of subscriptions. It is also said that smartphone penetration will continue to rise, driven by the increasing affordability of devices. At the end of 2023, 7.3 billion subscriptions associated with smartphones are expected.
The standardisation work plan for 5G has been accelerated. Early 5G deployments are anticipated in several markets, including the US, South Korea, Japan and China. The first commercial networks based on Standalone 5G NR are expected to go live in 2019, with significant network deployments from 2020. By the end of 2023, over 1 billion 5G subscriptions are forecast for enhanced mobile broadband.
Total Number of VoLTE Subscriptions Expected to Reach 5.5 Billion in 2023

Ericsson revealed that VoLTE has its presence in more than 125 networks in over 60 countries across all regions. The number of VoLTE subscriptions is projected to reach 5.5 billion by the end of 2023, accounting for more than 80% of the combined LTE and 5G subscriptions.
There are more than 1,300 VoLTE-enabled device models. A mere 3 cellular smartwatches have support for VoLTE. Users are able to make voice calls directly on their smartwatch, without having a smartphone nearby. Calls can also be transferred between a user's smartphone and watch.
Mobile Video Traffic to Kill Social Networking

Mobile video traffic is forecast to grow by around 50% annually through 2023 to account for 75% of all mobile data traffic. Social networking is also expected to grow – increasing by 34% annually over the next 6 years. However, its relative share of traffic will decline from 12% in 2017 to around 8% in 2023, as a result of the stronger growth of video.
The emergence of new applications and changes in consumer behaviour can shift the forecast relative traffic volumes. Streaming videos in different resolutions can impact data traffic consumption to a high degree. Watching HD video (1080p) rather than video at a standard resolution (480p) typically increases the data traffic volume by around 4 times. An emerging trend with increased streaming of immersive video formats, such as 360-degree video, would also impact data traffic consumption. For example, a YouTube 360-degree video consumes 4 to 5 times as much bandwidth as a normal YouTube video at the same resolution, said Ericsson in the report.
In 2023, Global Mobile Data Traffic to Surpass 100 ExaBytes (EB)

Monthly mobile data traffic per smartphone continues to increase in all regions. North America has the highest usage, and traffic is expected to reach 7.1 GigaBytes (GB) per month per smartphone by the end of the year and increase to 48GB by the end of 2023. Western Europe has the second highest usage, with traffic set to reach 4.1GB by the end of 2017 and 28GB by the end of 2023. Western Europe will be the region with the highest growth rate in monthly mobile data traffic per smartphone during the forecast period.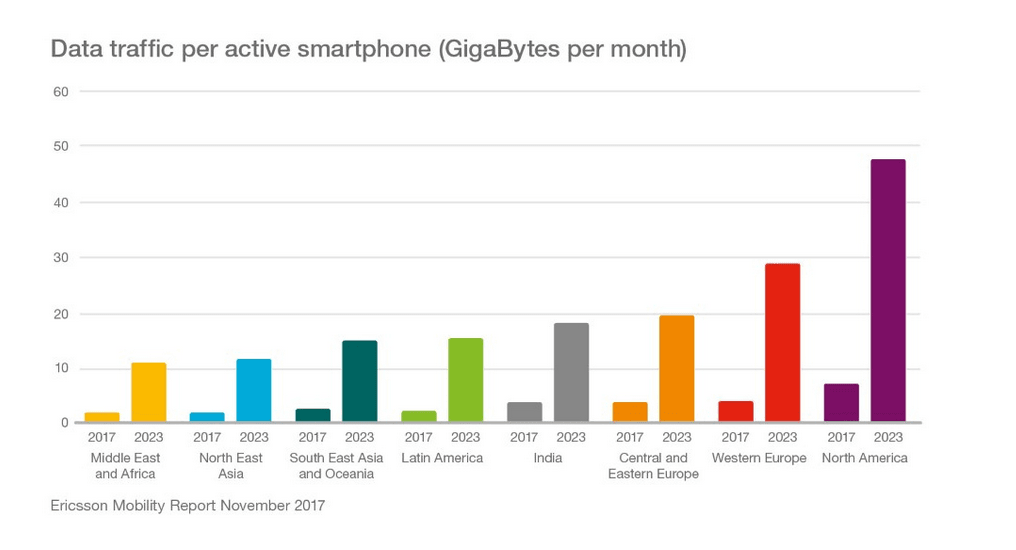 The high average usage in India – estimated to reach 3.9GB per month per smartphone at the end of 2017 – is mainly due to an introductory LTE offer by Reliance Jio during the latter half of 2016, which included free voice and data traffic. Data traffic is expected to continue to grow, reaching 18GB per month per smartphone in 2023 in India.