DJI has released its second generation mobile stabilisation gimbal – DJI Osmo Mobile 2 in India. Previously filmmakers who needed a handheld gimbal for their phones had limited options when it came to buying the device. However, the Chinese camera equipment maker has brought one of the most sought-after mobile gimbals to India and has done so at an attractive price point. While the Ronin-S and Osmo Mobile 2 were seen together in the CES 2018, the latter has made its way to the Indian market, and there have been no updates about the Ronin-S. In the recent launch by DJI of the Osmo Mobile 2 for Indian markets, the price of the gimbal has been set to be Rs 10,999. On Amazon, the device is selling with a Rs 1,000 discount meaning you will be able to buy it for Rs 9,999. The Gimbal also comes with an offer from Amazon, under which SBI credit card customers can get 5% cash back on EMI.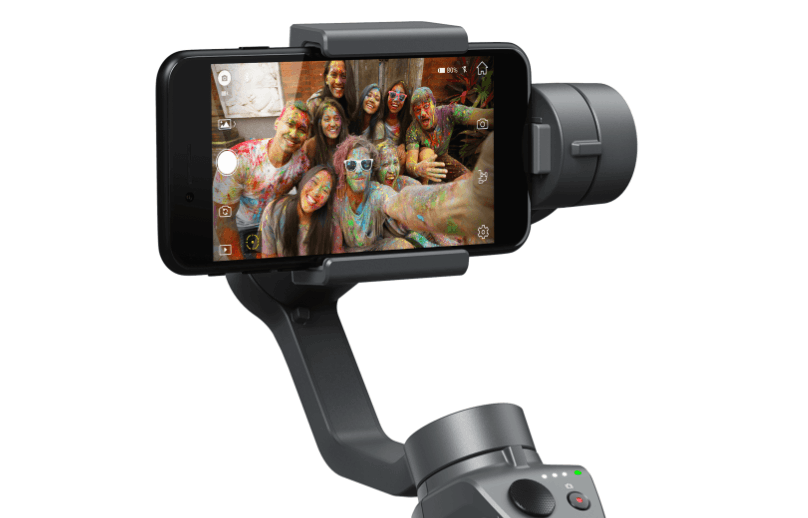 The dimensions of the Osmo Mobile 2 measure to be 295x113x72mm and It weighs around 485 grams. In comparison to the previous mobile gimbals by DJI, this one is a tad bit lighter and bulkier, and it also comes with a two-way clamp to hold your phone that allows users to shift between portrait and landscape modes.
Talking about features of the Osmo Mobile 2, the gimbal is one of the best that the phone users can avail. The same can be said about the Osmo Mobile 2 concerning battery life. The company claims a battery life of 15 hours on this. Interestingly, the previous version of the Osmo Mobile only used to average around 5 hours of battery life. The claim is accurate since the gimbal packs a 2600mAh battery, compared to 980mAh battery present in the previous variant. Users will also have the option of using the Osmo Mobile 2 as a power bank in case their phone runs out of battery thanks to the larger battery.
There is no shortage of features on the DJI Osmo Mobile 2. The gimbal features an inbuilt zoom slider which enables smooth zooming between the shots. Also, it works for both front cameras as well as rear cameras. The second gen mobile gimbal supports Android and iOS devices both. However, there is the requirement of Android 4.4 KitKat or newer versions, and on iOS devices, users need to be running on iOS 3.1.31 or above to use the gimbal.