One after another response to the mobile broadband data tariff war, the latest is from pure-play CDMA operator MTS India. Earlier we pointed out that 3G tariff is now cheaper than MTS India's CDMA based high speed data offerings.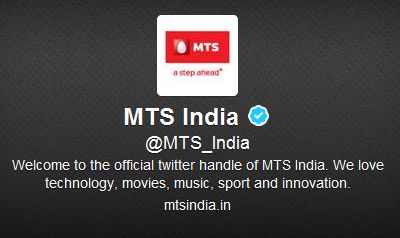 CDMA, though have its own technological advantages on offering data over 3G/WCDMA/HSPA is not popular mobile technology in India. Here GSM rules and CDMA players like Reliance Communications and Tata Teleservices had to launch GSM services later. MTS, being the sole pure-play CDMA operator is trying hard to stay afloat in the highly competitive market. MTS is market leader in the dongle based mobile broadband delivery and enjoys more than 30% revenues from its data services, which is highest in the industry. Though in the smartphone arena MTS is yet to get that success.
However MTS has responded to the market dynamics and starts offering 1GB data for Rs 125 only. Apart from the 1GB HSD data, the user will also get 50 local minutes for 30 days. MTS also offers 1GB HSD + 1x UL plan for just Rs 155 along with 50 local minutes for 30 days.

Note that this plan is available for smartphone customers only, confirmed in WB circle. There is currently no tariff revision on MBlaze Dongles.
The screenshot was shared by Mr. Sougata Dhar Chowdhury, a MTS Prepaid smartphone customer (West Bengal circle)