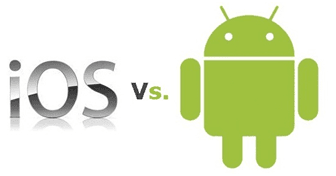 IOS being developed by Apple and Android Operating System being developed by Google are striving hard for their supremacy in the world of Mobile Operating Systems. While Apple is a company with good Hardware as well as its own software (iOS).
Google the search engine giant has its own resources and stamina to make Android stand first .With these two giant companies developing their own Mobile Operating Systems the heat is up in the mobile market bringing Symbian and other Operating Systems down.
We can clearly see the competition between the Applications developed and the devices being sold all over the world. Google is trying to integrate all its Desktop services to mobile by providing all its services through Android OS. Truly speaking the applications for iOS are more in number compared with that of Android (Because the entire US Market is IOS dependent) but the app share for Android is growing rapidly.
One finds it's very difficult to compare between that of an Apple IPhone and to Google's Android, because they are not the same when integrating both Hardware and software together. An IPhone comes both Hardware and Software integrated together but it's not the case with Android.
In Android the Hardware may be the best but the software that integrates it may not be the perfect to meet the needs of hardware and hence a poor outcome. Keeping this in view let us now have a comparison between these two operating systems.
IOS

The first and most important advantage of IOS is its simplicity in using the interface. Even children can use the IOS with much ease and comfort. Tons of iPhone apps till date and still growing.

Android

Android bought a revolution in the User Interface after people are fed-up with the boring Symbian Icons and UI. Tons of Android apps and still growing.

Apps in IOS use better graphics, have better UI and are very easy to use.

Apps in Android use basic graphics and all the functionality lies in the menus and are hidden under options.

Apple says NO to Flash support. It supports only two platforms, HTML5 and its App store.

A Beta version of Flash Player 10.1 available on Android 2.2.Desktop like Browsing experience.

Apple provides support for its services like Music, Books and Applications all through its ITunes store, IBooks store and MobileME services. Local backup service available when cloud services fail.

Google provides applications integrated within the OS only for its Services like Gmail, calendar, Gtalk, Contacts, Android Market while support for all other extra services like music, data backup and sync  are provided by third party applications.

One of the most important advantage of IOS what we found is that all IOS devices get the latest software updates available, So every device with its hardware supported gets the latest software update available.

Though Google releases the latest version of software updates for every six months, not all the Android devices get the software update, only a few devices receive the update. This is purely dependent on specific Phone Manufacture. So a specific model may have the best hardware but an outdated Operating System. Only a very few percent of Android users are running the latest OS available till date.

There is very little tweaking and customization allowed by iOS. You have to do it Apple's way or else it's not an option. These limits allow iOS products to function very well within the protected space as rules set out by Apple. However, if you have the need or desire to do something that is not within the boundaries Apple has set for iOS (and can't create an app to handle it) or else leave it for luck!

The Android operating system is open source and so hardware makers can take it and do almost anything they want with it. This is one of the main reasons why the devices are not getting software updates as soon as they are available. The Device manufactures are tweaking the UI adding up their very own interface like HTC Sense, SAMSUNG Touch Wiz etc. This may happen or not and thus Update fails leaving the user with outdated OS.

Apple can design hardware whatever best suits its software and make the whole device a packed master piece.

It's not the case with Android, different Manufactures build different Hardware and Android should abide by it.

Other features/Drawbacks: Multitasking , Native Video chat support, Threading conversations, Unified Email inbox,Copy paste, folders,internet tethering , No Wi-Fi hot, No Flash support, No Widgets, No removable storage.

Other features/Drawbacks: Multitasking, Video chat support by add on apps,HTML5 support, unified inbox, threaded view conversations, Flash Support for Browser, internet tethering ,Wi-Fi Hotspot supports till 8 devices, removable storage support, Folders, copy paste, Widgets support.
But one thing is clear,unless or until Google puts some restrictions to Mobile manufacturers regarding the OS updates available to customers it cannot have the blessings from its hardcore fans who own an Android!
But all these don't mean IOS is ahead of Android OS. As long as Google is developing Android with its support and services,Android stands still like a Giant with millions of devices being sold every minute all over the world and also being an open source it's a big advantage to Android as well as its developers.
Despite of all the Advantages/Disadvantages of each Operating System people who are using their Mobile Device operating system knew the power of their OS and how far they are able to agree it!