Looks like operators are trying to utilise their network resources optimally especially during nights. Operators have already started offering night plans to users across circles and now Airtel has started offering an unlimited night Youtube pack.
We have not yet tested or analysed how effective this pack is as it is available only across selected circles.
We have received this information from one of our West UP reader who was able to activate this pack.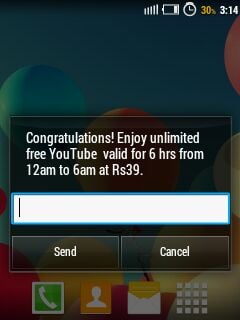 Once it becomes available in our home circle we will come up with a detailed analysis. We expect this pack can be used on 3G network and no data charges would apply for using Youtube during the pack validity.
Dear readers, do let us know via comments if this pack is available in your circle and do you feel this pack is really useful?
Operators are always on the lookout for finding innovative ways to shift their traffic from peak to the low traffic periods so that they can optimise the network usage better. For this the users are prod to stay awake late into the night.
Note: Please check with customer care before subscribing to Airtel Unlimited Youtube Plan.