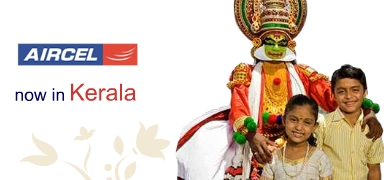 Aircel announced the launch of its GSM mobile service in Kerala thereby taking the company's footprints to 11 out of the 22 circles in the country.
Aircel COO Gurdeep Singh said the company will begin the rollout in Karnataka and Andhra Pradesh in the next three or four months and complete the coverage in the South India.The company is the top player in Tamil Nadu, Chennai, Assam and north-eastern states now, he said. This will be followed by launch in other states and Aircel expects to be present in all circles by the end of 2009.
Aircel has also introduced products and services uniquely tailored to meet the special needs of Kerala consumers, like

The lowest inbuilt Gulf tariff at Rs 5.99 per minute. In addition, the company will allow Kerala subscribers to make calls to Tamil Nadu at 50 paise.

Free roaming facility between Aircel phones in Tamil Nadu for 3 Month.

There will be inbuilt reduction in tariff on all local calls after the first minute to 50 paise for all subsequent minutes.

Aircel is providing localized content including a WAP portal page in Malayalam for any GPRS phone.