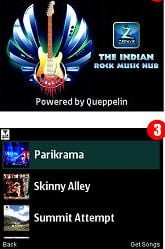 Zephyr brings music from all the best Indian Rock bands like Parikrama who've been the best rock band in India for last 20 years.
With Java or Android phones, users can stream and play music on their mobile handsets, make playlists and share their musical tastes with their friends on social networks.
Zephyr will also feature some of other leading Indian Rock bands like The Hobos, Skinny Alley and many more.
Prafulla Mathur, Founder and CEO of Queppelin said, "We are very excited about launching Zephyr in India. With Zephyr we target to reach all the Indian Rock music lovers and expand the horizon of progressive Indian music." Prafulla added that, "Queppelin getting featured at the Mobile World Congress is the first step towards our endeavours in paving the path to mobile application development from India to the world."
Subir Malik, Parikrama said, "We are excited about being featured in Zephyr, the emerging Rock Music hub. This is a novel idea and will be a platform for many rock bands to be discovered and get featured."