Continuing with its commitment towards innovation, Uninor has become the first telecom operator in India to introduce eco friendly retail signboards across retail outlets in upcountry towns.
Uninor has introduced a pilot of this environmental friendly medium in Bihar & Jharkhand, making this region the first telecom circle in the country to flag off the innovation of HDPE (High-Density Polyethylene).
Traditionally the mediums and inks used for production of retail branding and shop visibility was Arlon Grey Media 13onz. However the move away from this platform to HDPE product to Green Signages will ensure that Uninor spends lesser energy and resources in creating new signages.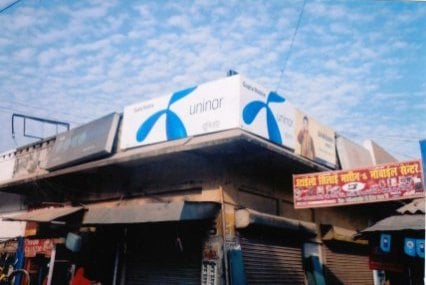 Since its operations launch in Dec 3, 2009, Uninor has worked towards doing things differently than the rest. The company's commitment to innovation has seen it launching path breaking product propositions like Dynamic Pricing for the time in India. The pilot project using Tyvek Green Signages is yet another example of Uninor's endeavor to ensure a healthy and safe environment is maintained in the markets it operates in.