On 11th January we initiated a nationwide broadband survey to find out India's best broadband service provider (ISP). We are thankful for the overwhelming response from you all. As notified during the closure of the survey we are publishing the analytical report today. As the entire report would be lengthy when wired and wireless segments are combined, we chose to publish wired segment's results first.
In total we received nearly 2000 responses out of which nearly 10% of the entries were spam. As the spam entries came from one single broadband operator (You Broadband) we could filter it out fairly easily! Read on to find out how we identified spam entries. We chose to consider ISPs which received at least 50 entries for naming them. This criteria was met by only Airtel, Beam Fiber, BSNL Broadband and MTNL. Rest of the ISPs were categorized as 'Others'. There were nearly 50 such ISPs. With this we chose not to over emphasize on brands but to analyze other aspects which came out of the survey.
Findings of the Survey
Age with Service Provider
Nearly 5% participants declared that they have been with the same ISP for over 10 years. Leading the race here was BSNL Broadband. The natural reason here would be the nationwide coverage and 10 years ago major market share on landlines was held by BSNL.

Nearly 30% participants who use 'Others' as their ISP have completed 0 - 2 years with the provider. This can be attributed to the fact that India (particularly tier-II and tier-III cities) has seen a sharp rise in private players providing broadband services.
Connection Speed Vs. Monthly Charges
While we could analyze Speed Vs. ISP we chose not to do that as nearly every ISP provides every speed range and prices vary. Some interesting facts which came up were:
Nearly 45% users thrive on connection speed of 1-3 Mbps

30% users are still living with connection speed of less than 1 Mbps

Less than 1% of the users enjoy a speed greater than 50 Mbps

Over 60% users are paying in the range of Rs. 500 - Rs. 1000 per month for their connection. In this range the connection speed is essentially 0.5 Mbps to 5 Mbps
Monthly Usage
10% users said they use over 100 GB data per month

20% users use between 25-50 GB data per month

25% of users use up to 10-25 GB data per month

Less than 2% of users use less than 1 GB data per month.
This is a clear indication that data consumption is ever growing!
Primary Usage
40% users use their Internet connection for email and social networking

Another 40% users said they use internet for video streaming. This must be a good news for Google, Vimeo and others.

Another significant usage turned out to be 'work from home' - 20% users reported that they work from home! So reliable connectivity has given rise to a new segment of people.
Fair Usage Policy (FUP) Limit
The FUP limit ranged from 0.5 GB to No FUP (18%) at all. MTNL is the prominent operator who do not impose a FUP limit on customers. A major chunk of 36% participants responded that their post FUP speed is <=512 kbps followed by 26% with post FUP speed of 512 kbps - 1 Mbps.
Downtime Concerns
Wired broadband in India is certainly reliable as less than 20% users face downtime of more than 5 times per month. Nearly 40% of users do not face any downtime at all!
Customer Care
We had asked participants to rate their operator on these fronts:
Friendly and caring

Technical knowledge

Knowledge on Current offers

Problems get resolved within said time

Timely SMS alerts for fault resolution

Support over Social Media

Active Round the Clock
For all these headings responses were more or less the same, except for social media support. In a scale of 1 (Poor) to 5 (Excellent), all operators got ratings in equal percentage (~20% each).
In the case of social media support, nearly 40% participants rated their ISP's support as 'Poor'.
Happiness Rating
Finally, comes the happiness rating. Over 35% participants were happy with their ISP, and major share went to BSNL Broadband which was closely followed by Airtel. BSNL also had a significant share in no happiness category. :P
Why was You Broadband Eliminated?
Earlier last week when the survey was in progress, our alert readers alerted us on spam comments about You Broadband. When we checked our CMS for originating IP addresses, we discovered that the suspicion was right. On checking the timestamps of survey entries, nearly 10% of the entries for You Broadband had come at the same time. As we believe in fair practice, we decided to eliminate all the entries in the name of You Broadband. We want this to be a warning to anyone who tries to spam surveys.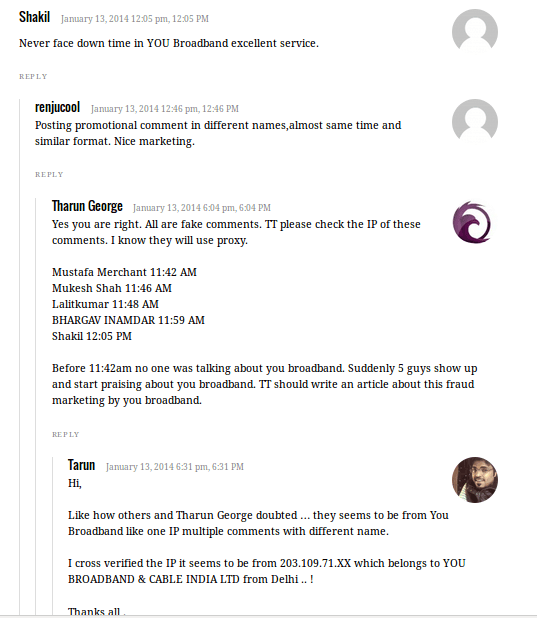 Conclusion
We believe this survey can play a role in choosing your next or new broadband service provider. It must be noted that in a past long term perspective, BSNL did not have a real competitor all over India. This could be a prime reason for BSNL emerging as a winner.
Disclaimer: Note that the above survey was taken by readers of this site, and there are lot more broadband users in this country. The views of people outside our readership might be different.
Survey results of Wireless segment would be published later this week.