Following 3G auction RCom was in deep cash crisis, and that cash crush is still ongoing. RCom tried to offload stake from its mobile venture as well as from its tower arm - Reliance Infratel, but actually nothing happened. There are some updates from RCom, which seem to be concrete for the company's future.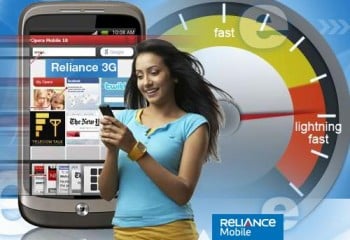 RCom is one of the leading data service provider among the mobile operators with presence on both GSM and CDMA platform. RCom offers EVDO as well as HSPA based wireless broadband services. As per recent data till December 2012 RCom has 27.6 million data subscribers over its 2G-GSM, 3G-GSM and CDMA (1X and EVDO) network. RCom has 6.1 million subscribers on its 3G network. Average data usage per customer stands at 280 MB per month. Non-voice (=data) revenue stands at 20.9% while the company expects to increase it to 40% in next 2-3 years as data services on 3G does take off. On wired platform RCom has 1.498 million broadband customers.
RCom is also working to reshape its CDMA business. After Reliance got GSM spectrum in 2008 the company started pushing GSM over CDMA. Also CDMA does not have strong ecosystem like handsets compared to GSM. But interestingly RCom has good number of loyal subscribers on CDMA platform, though many shifted from Reliance CDMA. Even Reliance stopped expanding its CDMA coverage for years.
At the same time Reliance's dongle based EVDO services took a hit from Tata Teleservices' Photon+ and SSTL's MBlaze. In south circles BSNL rolled out EVDO with wide coverage and offers unlimited usage plans. All these lead to a roadblock to Reliance Netconnect+ services. It is true that TTSL and SSTL has more EVDO coverage than RCom. SSTL (MTS India) and TTSL both rolled out EVDO rev B services in the country.
So RCom is quite out of the track in CDMA arena, compared to its competitors. As it has been learnt that Rcom will migrate its voice customers to GSM, while CDMA will be for data - targeting smartphones, dongles, WiFi routers, tablets and PC.
RCom recently appoints Alcatel-Lucent to manage its wireless network, which will enable the company to lower 8-10% cost. Reliance is known to be in talks with three telecom companies to ink a passive infrastructure deal - tower sharing. One of these companies is seemed to be Reliance Industries owned Infotel Broadband who owns pan-India 4G spectrum. ET reported that RIL may buy stakes in Reliance Infratel. RCom CEO Gurdeep Singh thinks its global broadband network (FLAG Telecom) will provide added advantages for 4th generation networks.