As we reported earlier, Reliance ADAG is suspending its DTH arm Reliance Digital TV operations on 18th November 2017 as its license expires and the company which is weighed down by a debt of Rs. 47,000 crore has chosen not to renew it. In a recent notice to its subscribers, the company has revealed a tie-up with leading DTH operator TataSky for offering a seamless migration of subscribers to its service at no additional cost.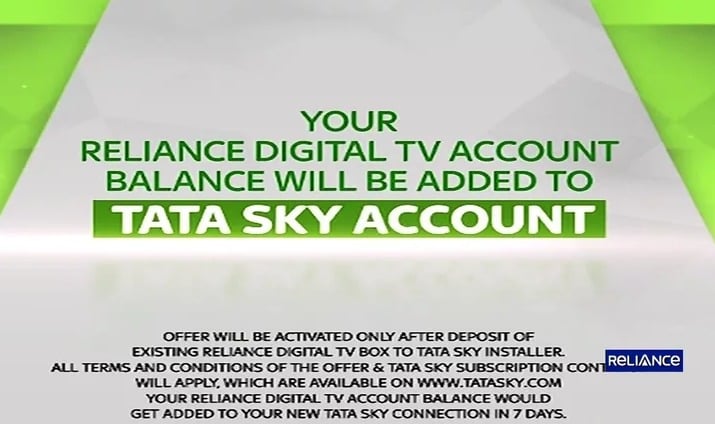 Reliance has a subscriber base of 5 million users of which currently 1.3 million are active users and will be impacted by the shutting down of the DTH service. TataSky which currently holds 23% subscriber market share will benefit from the additional 2% market share of RDTv provided all subscribers choose to migrate to its services.
To make the process seamless for subscribers, both operators have struck an understanding where existing RDTv subscribers just have to give a missed call on 9237092370 and TataSky will contact them within 72 hours and set up a free installation along with free HD Set top box, provided the subscriber hands over the old RDTv STB to the installation technician. Subscribers who need multi-TV connection will have to pay for the additional STB needed.
As an added benefit for subscribers who have balance in their RDTv account, TataSky will carry over all existing balance to the new account post migration and within 7 days of activation of service. The subscribers will, of course, have to select from any of the existing channel packages offered by TataSky. Even though the subscribers will enjoy more than double the number of channels and services on TataSky than they used to get with RDTv, the HD access fee may take a while getting used to.
TataSky has stepped up its efforts in creating a value for money proposition for the low spending capacity segment with the introduction of base packs starting at Rs.99 and the recent addition of 'Make my HD pack' offering subscribers a choice of picking any 5 HD channels from their base pack for just Rs.30 per month instead of paying the full Rs.175 of HD access fee. Also, the operator has reduced the Multi TV connection price to Rs.150 (instead of Rs.250) for subscribers with base packs of Rs.199 and below (My 99, Dhoom and Dhamaka pack subscribers).