A major blow comes to CDMA users in India as India's pure play CDMA operator MTS India who always prioritizes data over voice has gone in a wrong way – they started deactivating EVDO services on OMH RUIM card users (those are not using MTS Smartphones) without any prior notice, as subscribers at Kolkata, West Bengal and some other certain cirlces complain.
Back in September, 2011 MTS had launched data packs for voice customers. The packs went revised twice. MTS cleared the fact that these plans will provide EVDO speed on OMH RUIM, provided EVDO is activated by a simple process by sending SMS.
During this period MTS had three types of HSD/EVDO data plans – for OMH RUIM users, for MTS Smartphone users and for MTS MBlaze data card users.
In last two months MTS stopped EVDO activation on OMH RUIM without any clarification. 
How MTS India messed up :
1. They deactivated EVDO without any prior notifications to customers
2. They deactivated EVDO in the middle of the validity of the previously recharged pack – this is a serious breach of conduct.
3. When a customer wants to lodge a complaint regarding this on MTS Data Support (955) – the customer care executive is not willing to give any docket no. i.e. no complaint is actually taken.
4. MTS is saying to get EVDO/HSD speed your plan is to be changed to smartphone plan.
5. From MTS there is no clear-cut tariff details regarding data plans for mobile users. Also when you convert your voice plan into smartphone plan, your existing plan benefits (say 150 min local onnet/day, 1p/2sec, 30p/min all local for lifetime etc) will be removed. 
6. Will [email protected] pack benefit i.e. data @ 30p/MB work on smartphone plan? – No answer from MTS.
Suggestion for MTS :
1. Separate data packs for mobile customers and data card users – mobile data packs are to be cheaper.
2. Hassle free EVDO activation on OMH RUIM cards
3. Separate packs for EVDO and 1x for mobile customers – all packs come with no restriction.
MTS is really doing well on CDMA front, specially bringing some Android smartphone with affordable price. But what is the use of smartphones if MTS behaves like a dumb when it comes for data packs.
With recently launched MTag 351 & 352 MTS offers two data packs, which are almost doubly priced than the cheapest 3G operator's tariff plans. (Still we think CDMA is cheaper than 3G!!)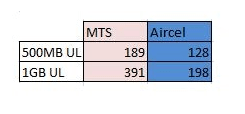 I called MTS data support on 955, they told me about three plans – Rs 107 (225 MB, 30days, 2p/10kB after the bundled usage), Rs 193 (600 MB, 30days, 2p/10kB after the bundled usage) & Rs 492 (1536 MB, 30days, 2p/10kB after the bundled usage). These plans I believe are old plans, even MBlaze plans, at par with 3G data tariff revision are way cheaper than these plans.
With cheaper unlocked 3G handsets, more & cheaper tariff options who will use CDMA in coming days? I can see a new wave of MNP for porting out from MTS, most of them are high ARPU subscribers.