MIUI 8 Global ROM is all set to release in India on June 30. More news comes the way, primarily that MIUI 8 is adding new features such as split screen multitasking, says GizmoChina.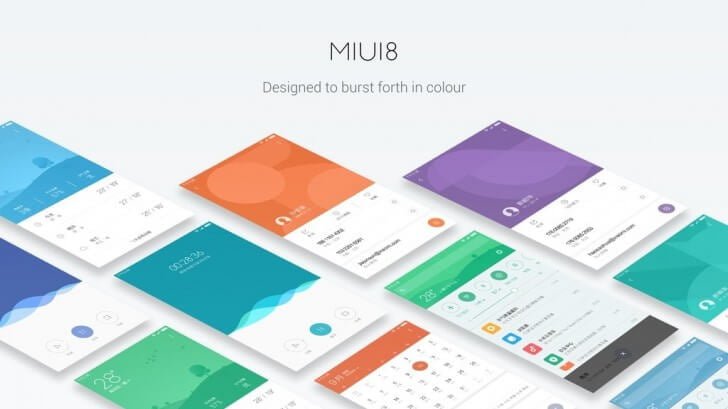 However, the report added that the feature may not be available in its first release, but may appear in some later minor updates. Another refreshment will be seen on its visual appearance. Interestingly, MIUI 8 integrates lots of new themes into this OS. These themes change colors according to the month, weather, and sounds in the surroundings. To say, the color in the app can change according to the tone of the sound while recording. Colorful animations and a slightly tweaked dial pads are the other modifications.
In addition, MIUI 8 comes with new font Mi Lanting, which according to Xiaomi, has used a concept "center of gravity of fonts" to design it. There is also a text selection tool in the new OS. On selecting a word, users can translate the text from China to English or vice versa. If the text contains phone numbers or email IDs, it will prompt the users to save it as well.
MIUI 8 will feature lots more screen lock images compared to its predecessors. The Gallery of the newbie has also undergone a change, making it more user-friendly and feature-rich. Automatic grouping of similar images, notifications on syncing, GIF photo identification using a separate GIF logo, thumbnails of HD photos, etc. will be the changes in the Gallery section. The new feature of thumbnails of HD photos is said to save 90% of gallery storage as the OS will store only the thumbnail in the smartphone, whereas the original image is stored in the cloud.
In the Gallery, the changes in the editing features of MIUI 8 are also worth noting. There are options to add new doodles, graffiti, and other filters on photos in the new Xiaomi OS. Even the videos can be edited, with some necessary edit options, such as cropping, adding filters, captions, or music. The edited photos and videos can be shared at a swipe. Also, the new screenshot option in MIUI 8 enables the users to take long screenshots and can also cut a portion out of it with ease, if desired. This means taking a screenshot of a long infographics or a long web page may not be a difficult task anymore.
The MIUI 8 scanner is said to feature barcode scanning to purchase products online and also converts image information into text. It comes with Quick QR code generation for WeChat Wallet and Alipay in China. Another interesting feature is its ability to solve Mathematics problems with step-by-step solutions. MIUI 8 calculator has gone advanced by simplifying routine calculations such as currency conversions, mortgage, etc.
MIUI 8's notes feature has gone a slight make over. The new notes feature comes with password protection and fingerprint lock options. Reminding Google Keep Notes, the grid view of notes has come into play in this new OS. There are templates of notes to grab as well. Mainly, the new OS comes with a feature that allows users to set two different passwords on the smartphone. Each password entry can take you to a different screen on the device, featuring different options. This means that the users can set screens for particular functions like work, personal, etc. Impressively, the data on an app of one screen will not interfere with the other.
The MIUI 8 OS also comes with internal SMS fraud detection system. Similar to emails, the phone will warn users about the possible threats with an SMS and notifies, if the SMS is fraudulent. The same protection is extended to the web browsers as well. It'll warn users about the suspicious websites. Also, the power saving mode of MIUI 8 OS is worth mentioning. This mode freezes the background applications as well as stops the sync features to enable extended battery back up. Essentially, these features adorn the new MIUI 8 OS. The twists and tweaks of the new OS can be further seen on its actual release awaited on June 30.
Smartphones compatible with MIUI 8
Xiaomi Mi 2
Xiaomi Mi 2s
Xiaomi Mi 3
Xiaomi Mi 4
Xiaomi Mi 4c
Xiaomi Mi 4s
Xiaomi Mi 5
Xiaomi Redmi Note
Xiaomi Redmi Note 3
Stay tuned with us for more. Meanwhile, you can share your views based on the aforementioned features of the MIUI 8.