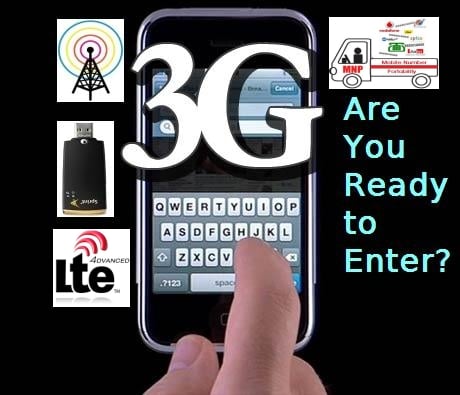 Hopefully at the end of this year or begining of next year private operators will start their 3G services.
While most people cross their fingers for a cheaper 3G services, more specifically cheaper wireless data services, experts and operators saying negative as 3G licences came at a huge cost and operators will not offer 3G services at cheap rate.
The tariff war on 2G platform was triggered by new entrants which makes the mobile market overcrowded and results in 'predatory pricing' – which in turn helps to increase number of mobile subscribers at a overwhelming rate.
But 3G scenario is different, here most circles have only 4 operators having 3G and in few circles 5 operators will be offering 3G – so not a serious competition. And these operators are older ones – Airtel, Vodafone, Idea, Reliance & Aircel, only S Tel and Tata Docomo are from new entrants to win 3G spectrum. Without any pan India operator market will not be that competitive as operators will go in network sharing.
Same thing is on wireline broadband sector, almost zero competition and monoply of BSNL due to its availablity (and not for its services !) we here don't get a cheaper broadband solution like voice calls.
3G will not only introduce video calls, high speed internet on move and mobile TV but it will also help to serve spectrum-starved 2G services – less call drops, better call quality, stable GPRS link on 2G networks. As far as 3G will be costly (if you are thinking for unlimited) GPRS will be serving most of the users who access internet via mobile devices. GPRS packs are reasonably priced, 2GB – 6GB at around Rs 100. 2G GSM Data cards never made a bang in the market as mobiles are available for using as modems.
One thing is clear as 3G plans will come with Fair Usage Policy, it will help operators to free network from congestion as mobile operators will use these spectrum also for voice calls and etc. If you are going blame them, blame Govt policy of selling less spectrum! That is the reason wireless broadband is not going to be mainstream, and not an alternative to wireline unlimited (no FUP) broadband. Pricing is very important in a country like India.
Most people take unlimited plan as there is no high billing issue at the end of month, and a few people actually use the unlimited plans. So for these catagory of people with medium usage and sometimes high usage, data plans with 2GB – 5GB at high speed and then speed will be lowered down during the validity period is good enough. At present BSNL & MTNL the PSU duo offering 2GB 3G data plan at around Rs 750 and 5GB at around Rs 900, which is good enough thinking you will use it on move. Secondly while wireline unlimited affordable plans come at approx Rs 1000 or less which offers speed upto 1Mbps.
In United States, recently Virgin Mobile launched wireless broadband unlimited plan at $40 (Rs 1800). BSNL 3G unlimited data plan comes at Rs 2500 and MTNL Delhi offering same at Rs 1800. So here unlimited plan comes at similar price of US, but not as low as compared to our voice call rate.
But think 3G HSPA which is to be deployed over country which will offer speed upto 3.6Mbps, and as network is upgrading speed will gradually increase to 7.2Mbps, 10.2Mbps. BSNL & MTNL are offering 3G speed upto 3.6Mbps, while in Karnataka BSNL started upgradation to offer speed upto 7.2Mbps. Here you are paying more for mobility and more speed (though varies with factors) compared to wireline broadband. Just FYI with HSPA+ Rel. 10 downlink will be 168 Mbps at peak (theoritically) using 20 MHz, as cited by Qualcomm.
Enter MNP (Mobile Number Portablity), a long waited approach is going to be implemented hopefully on 31st October, 2010 without any furthur delay. MNP can make a change for 3G data services. For operators ARPU is falling in a continuous manner, and high speed internet comes as a savior to increase it. Though experts say MNP, a late entrant will have little impact in a market dominated by multi-SIM handsets. But MNP can strike on 3G users as multi-SIM 3G enabled handsets has no presence here.
At present as 3G spectrum was given to operators, all are busy in rolling out 3G networks from circle to circle. After MNP kicks in, most of 3G operators are expected to gain subscribers from other operators. Tata Docomo with technical support from global 3G telephony leader, Japan's NTT Docomo can become 'trouble maker' to biggies! S Tel as it won 3G licences in small circles -Bihar, Orissa and Himachal Pradesh can also woo subscribers with its plans.
Now come to CDMA Data services – Way to mobile broadband
It is quite unfortunate that Govt did not allow selling of 3G airwaves to CDMA operators citing CDMA technology is more spectrum efficient. At present CDMA operators (Reliance, Tata & MTS) is on CDMA200 EV-DO Rev A (maximum 3.1Mbps downlink), BSNL is on its way to upgrade from EV-DO Rev 0 (maximum 2.4Mbps downlink) to EV-DO Rev A. But with current customer load and shortage of spectrum, upgradation of carrier channels is not possible for Rev B (6.2 -9.3Mbps downlink).
Qualcomm is developing '1X Advanced' as natural next evolutionary step of CDMA2000 1X, the first and the most widely deployed 3G technology.
1X Advanced builds on proven 1X technology and adds advanced techniques such BTS interference cancellation, radio link enhancements and others to provide an unprecedented increase in performance. 1X Advanced benefits:

Up to 4x increase in the voice capacity of today's networks.

Frees-up spectrum for high revenue earning EV-DO data services.

Up to 70% increase in coverage with same capacity as today.

Cost-effective upgrade leveraging existing infrastructure assets.

Flexible deployment options to achieve time-to-market advantage with available MSMs.

Qualcomm has already announced a strong lineup of 1X Advanced infrastructure and device chipsets. 1X Advanced networks are slated for commercial launch toward the end of 2010.
Worldwide CDMA technology is stated best for data services which is compromised in India. Still data card business is dominated by EVDO – Reliance Netconnect Broadband+ and Tata Photon+ and recently MTS Mblaze. BSNL EVDO is cheapest one (unlimited without any FUP at Rs 750 per month) but most of areas are not covered!
It is highly expected wireless broadband sector will be heated up with entry of pan India BWA licence holder Infotel Broadband i.e. re-entry of Mukesh Ambani (Reliance Industries Ltd bought 95% stakes of Infotel) in telecommunications industry. Experts concerned to industry think wireless broadband can be affordable as he did with Reliance India Mobile. Probably LTE will be introduced with subsidized modems and tariffs for a period of 6 months to 1 year.
Another thing will make 3G/EVDO affordable as more devices (I am not talking about mobile handsets) like netbook and tablet PCs will come with inbuilt SIM slot, and operators start selling these with bundled affordable tariffs.
But true thing is free broadband for every Indians as said by the-then telecom minister Dayanidhi Maran in 2007 turns to be  just a mirage, while Finland already implemented right to Internet some days ago. But we should wait and watch for what is coming in future.
Comments are requested and appreciated.