As we know, Idea Cellular is offering 3G services in Delhi through intra-circle roaming pacts with Airtel and Vodafone. Now good news for its subscribers, the country's third largest telecom operator will use its own network to offer 3G services in the lucrative Delhi circle.
We at TelecomTalk found that MNC code 404-999 is having UMTS signal and this signal is live in different areas of Delhi-NCR for instance IIT Delhi, Rajeev Chowk, Metro station, Kirti Nagar, and Noida-sector 18.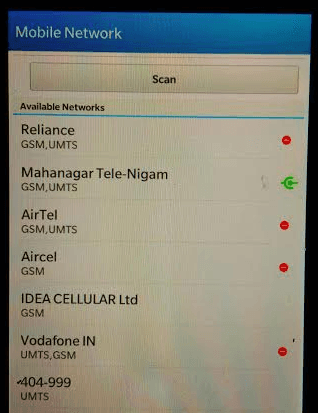 Aditya Birla group firm plans to use spectrum in 900 MHz band, which they won earlier this year in February auction. Earlier, the delay in launch of 3G services was caused because the spectrum was not allocated by the Department of Telecom (DoT). However, now all hurdles have been cleared and the company got spectrum from DoT. As a result, the company can launch its 3G services at any time in Delhi.
Presently, the company has 3G spectrum in 11 out of 22 service areas and has access to 10 additional service areas, including Delhi under 3G ICR pact.
At present, Idea has permit for 3G services in 11 areas - Maharashtra, Gujarat, Andhra Pradesh, Kerala, Punjab, Haryana, Uttar Pradesh East and West, Jammu and Kashmir, Madhya Pradesh and Himachal Pradesh. Idea recently got approval to start 3G services in Punjab also.
Recently, Vodafone India has launched 3G roaming services in Odisha circle with immediate effect, making it the first operator to provide services across the country. The company also won 1800 MHz spectrum, widely known as 2G spectrum, in 8 service areas along with additional GSM spectrum in 7 service areas.
For network infrastructure, Swedish telecom equipment vendor Ericsson has secured a 2G network modernisation and 3G network rollout deal from Idea Cellular for its Delhi telecom circle. In the meantime, the company has plans to use 1800 MHz spectrum for 4G services. Idea said that with total spectrum holding, it now has capability to launch 4G services in 8 service areas -- Kerala (10MHz), Maharashtra & Goa, Andhra Pradesh, Karnataka, Madhya Pradesh & Chhattisgarh, Punjab, Haryana and North East (5 MHz in each).
Also Read : Hands-on Review of Idea 3G Smart wifi
Plus, these 8 service areas represent about 58.1 percent of Idea revenue and an opportunity of upgrade to LTE service to existing 74.7 million Idea subscribers. In addition, Idea Cellular has posted over 91 percent jump in consolidated net profit at Rs 589.77 crore for the last quarter of 2013-14 on the back of expansion in both voice minutes and mobile data volume. On the other hand, the CapEx guidance for FY 2015 stands at Rs 35 billion, excluding any spectrum related payments.
The company has also rolled out 3,178 2G cell sites and 1,477 3G cell sites during the fourth quarter of the last fiscal, taking the network site count for 2G to 104,778 and 21,381 for 3G sites. Lastly, post Delhi 3G service launch, the 3G foot-print of Idea will cover about 80 percent of its current revenue and about 57 percent of national mobile industry revenue.