Some time back we conducted the TT Poll : Share your views on Airtel myPlan and Idea !Plan. We usually get a good response for polls, but this one left us with a different experience as the responses received themselves spoke about the scenario and interest among users.
Note : This survey mainly concentrates on the postpaid plans rather than on the prepaid myPlan as we feel there is no point in discussing the prepaid myPlan which is hyped to be a product from airtel by clubbing all recharge packs together on a portal as already discussed earlier.

From the above graph we can see that most of the users who participated in this survey are postpaid users. Good indication that this survey have some valued responses from right users.

From the pie diagram above it is clear that majority of the respondents are Airtel subscribers followed by Idea cellular.

63% respondents are not on these plans indicating most people are not interested in these plans. From the feedback comments received it is clear that "most people loved their old plan benefits".

It is also interesting to see 76% of subscribers are not willing/planning to switch to these plans clearly indicating that users are not able to digest the change and benefits.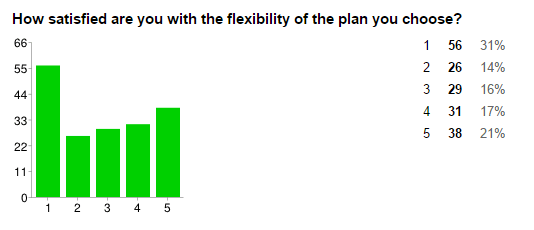 This question garnered mixed response. Most of the subscribers are inclined towards the negative approach while 21% are considering these as the best possible flexible plans for them.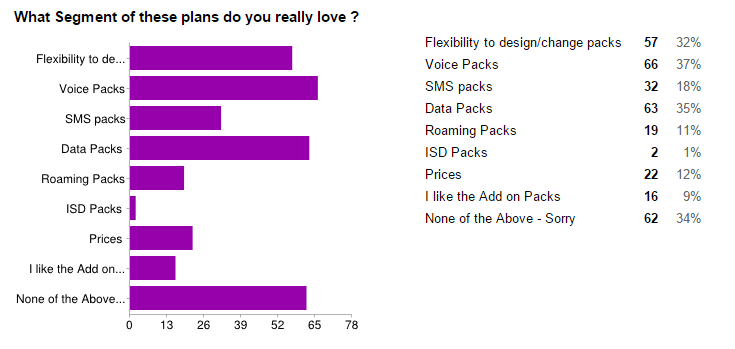 Key Observations :
1. Only Voice 37% , Data packs 35% are given importance by users in selecting the packs followed by sms 18% and roaming packs 11%.
2. From the statistics it is clear that most of the users are least selective in opting ISD packs.
3. While 34% did not like any of the above categories , 32% loved the flexibility and idea to change the packs.
4.Voice and Data are given almost equal importance and consideration by users. No doubt this is a clear indicative that airtel is afraid of its revenue share of voice if data overcomes it in the coming days.

Yes, word of mouth is the best way for any product to be a success and we can clearly see it's share for these plans where 61% of users are not willing to suggest these plans to family/friends.
*Yes, I'm also not on myPlan and not willing to suggest to any of my family/friends, though they are paying the same price for a different plan whose price range  is available with myplan along with flexibility.
*Some feedback responses from readers :
1. MyPlan – in name of flexibility, customers are being charged high. in older plan I used to get a bill amount of ~1000. When switched to myplan and with same usage, bill amount shooted to ~1400. Pathetic plans.
2. These packs make a distinction between local and STD caling. This forces a user to keep track of his local minutes and STD minutes.
If you have exhausted your local minutes, you shall be charged as per default call rates even though you may be having unused STD minutes.
I prefer the plans that make no distinction between local/STD/Roaming
3. It is the new way to increase the call rate and benefits , earlier I was getting 600 local mins in 199 plan now they are giving 200mins in 199 plan so what we get
4. MyPlans is the costliest option today and airtel is fooling customers with it.
5. These are flexible plans that can be used according to our requirements.So that we get the maximum benefit.This makes postpaid plans a better one
6. Really liked the combo plan formula, especially now that we can choose what exactly we want.
Though at times it may look like a premium payment plan, it has its benefits too.
7. My Plan or I plan is a scam and is made to look uglier than the earlier ones
 TT Perspective :
We really loved the flexibility of myPlan in postpaid segment which appears lucrative to users, but the distribution of benefits, add-ons available and flexibility while using in real scenarios is missing with these plans.
As we all know each rental gives us some free usage benefits in the form of so called myPacks/!Packs, these packs can be used to opt for free minutes, SMS or internet. So, now the rental you pay monthly gives you some free packs and the benefits you receive are distributed equally among those packs which one use to opt for their freebies. So, one compensates the same valued pack for Local min,STD min call, SMS , ISD or Data which is equalizing the benefit based on your personal usages there by giving you benefits in the name of flexibility.
I'm not going to elaborate in words anymore now as the below picture speaks more than words.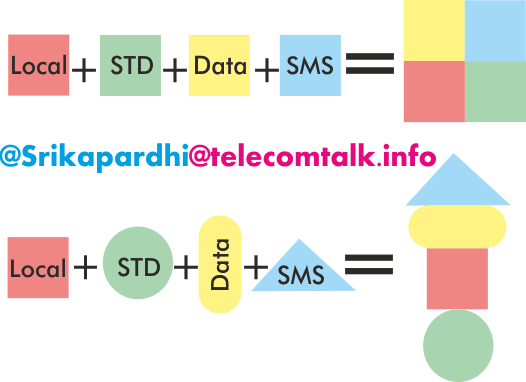 The above picture can be taken in different perspectives. 
Image 1 speaks :What users thinks they are getting as marketed, What operators are getting from users.
Image 2 speaks :What users really get along with the added flexibility factor. The gaps in the area covered by the result shape is what users are loosing and the rest is what they get as benefits considering the flexibility factor and the image speaks a lot.
*And many more perspectives can be taken, but in the end, it depends on the user's interest, acceptability, choice or usage factor. But any product will be a success only if majority of users's factors are taken into consideration and the outcome really shows it.
While Airtel and Idea cellular have already made these plans available in the market long back, we are still waiting for an attempt from Vodafone and we expect at least Vodafone comes up with a different approach with same concept which users really love to use and make a switch.
Dear readers, do let us know your feedback via comments.
Note :  Results based on the feedback received from the survey responses. May or may not be the same with your case.