State-owned broadband service provider Bharat Sanchar Nigam Limited (BSNL) has increased the maximum bandwidth to 10Mbps besides introducing exciting new offers for its customers. With the introduction of 4G wireless unlimited plans, many users have left the wired broadband connections.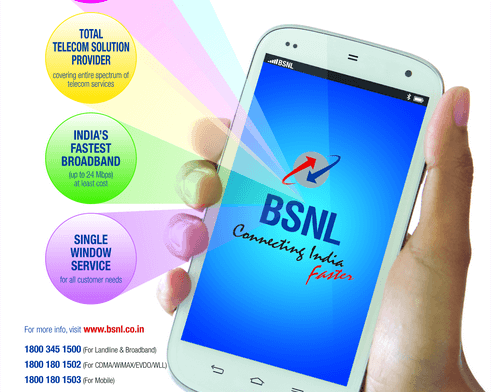 In efforts to woo customers, BSNL has increased its broadband speed to 10 Mbps for its plans starting from Rs 675 per month. For plans below Rs 675 per month, the speeds have been increased to 8 Mbps. The high speeds, however, last till the fair usage limit (FUP) is hit.
In case you need high-speed internet, BSNL is a perfect choice now. The operator has also introduced a promo offer of Happy Browsing that allows you to retain high speed even after exhausting your FUP limit. Let's have a look at some of the best "value for money" Broadband plans under Rs 1000 per month:
BSNL Experience Unlimited BB249 Plan
BSNL has the best affordable plan in the form of BSNL Experience Unlimited BB249. This plan from BSNL offers 5GB of high-speed data with a download speed of 8 Mbps. This plan is valid for all the customers for one year, and after that, BSNL will automatically convert them to BBG Combo ULD 499 plan. The BB249 plan also gives unlimited free calls between 9 PM to 7 AM & on all Sundays to any network in India
BBG Combo ULD 499
BSNL's most basic unlimited internet plan starts at Rs 499 monthly payment. The BBG Combo ULD 499 offers up to 8 Mbps speed till 10GB data. After exhausting this limit, the speed comes down to 1 Mbps. Additionally, you get free unlimited local/STD calls to any network between 9 PM and 7 AM every day and free calls all day long on Sundays.
BBG ULD 545
BSNL's unlimited Rs 545 plan is similar to the basic plan, offering 8 Mbps speed till 15GB data usage. Once you cross this limit, the data speed reduces to 1 Mbps. This plan comes without any call benefits.
BBG Combo UL 599
The BBG Combo UL for Rs 599 monthly charges offers the best value for money plan as it comes with flat 2 Mbps data speed. This means you can seamlessly browse YouTube or stream movies from Netflix. Moreover, you get unlimited free calls between 9 PM to 7 AM & on all Sundays to any network in India
BBG Combo ULD 675/BBG Combo ULD 680
For users who need more high-speed data, BBG Combo ULD 675 and BBG Combo ULD 680 are perfect plans. Both the plans come with 10 Mbps high-speed internet till 10 GB data usage. Beyond that, the speed drops to 2 Mbps.
The difference lies in free E-mail ID space provided by the operator. While the ULD 675 comes with 1GB space for single Email, the ULD 680 offers 100GB free space for an email ID. Again, unlimited calling between 9 PM to 7 AM & Sundays are available.
BBG ULD 945/BBG Combo ULD 950
The top of line unlimited broadband plans offers 20GB high-speed data with speed up to 10 Mbps. After the FUP limit, the speed comes down to 2 Mbps. In addition, the BBG ULD 945 comes with 1GB space for a single email while the Combo ULD 950 offers 100GB space with your email ID.
Moving to voice calling, both plans have unlimited calls from 9 PM to 7 AM plus all day on Sundays. In addition, there are 350 calls within BSNL network during the chargeable hours.
All the above plans are postpaid Internet plans and are subject to service tax which will be charged extra.