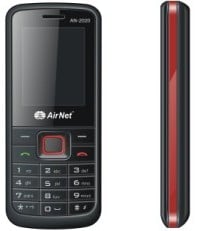 AirNet has come up with a new Dual SIM phone named AN2020i.AirNet Mobile is all set to provide the Indian mobile users another handset with the latest technology and stylized experience being readily available in the Tier1 and Tier2 cities.
The new launch will strengthen the Company's Dual SIM offering in order to expand its existing range of mobile phones with the launch of AN 2020i.AN2020i will be available in the market with a price tag of Rs 1699.
With AirNet Mobile rapidly expanding its reach over to the masses in the Indian market, it seems like a promising bet for a future leader in the handset technology.
The multimedia options of the handset are also impressive and come with features like:
* Digital camera
* Torch Light
* FM radio
* MP3 player
* T flash card support
* 1.8 inches of TFT screen
* Expandable memory
* High life battery upto 1050 mAh
* Mobile tracker
"Consumers are showing a growing preference for Dual SIM phones both in the GSM as well as the CDMA space. We are working at catering to this growing consumer need by introducing new differentiated Dual SIM handsets ." states Mr. Raj Tarani, Director –AirNet Mobiles.